Image of 'Dr Oz' with sideways campaign sign is altered
A widely shared image appears to show Mehmet Oz, the celebrity doctor vying for a US Senate seat in Pennsylvania, posing for a picture with a person who held his campaign poster sideways so that it read "No." But the image has been digitally altered to flip the poster on its side; the original photo shows the person holding the sign as designed.
"Dr. Oz gets trolled right to his face, and doesn't even realize it," said an August 28, 2022 tweet that was deleted after attracting thousands of interactions.
"Vote NO on Oz," said another.
Screenshot of a tweet taken on August 29, 2022
The image bounced around Twitter. It also circulated on Instagram and Facebook, where it was picked up by popular pages such as the liberal advocacy group Occupy Democrats, which received more than 17,000 likes and 1,500 shares on its since-corrected post.
Oz's opponent in the November 8 election, Pennsylvania's Democratic Lieutenant Governor John Fetterman, has posted campaign messages from his own social media accounts that have similarly twisted Oz's campaign logo sideways to spell "No."
But the image that social media users are sharing of Oz, known for his television role as "Dr Oz," has been manipulated.
In the original photo -- which Oz shared August 12 on Facebook, Instagram, Twitter and on his official campaign website -- the person holds his campaign poster horizontally.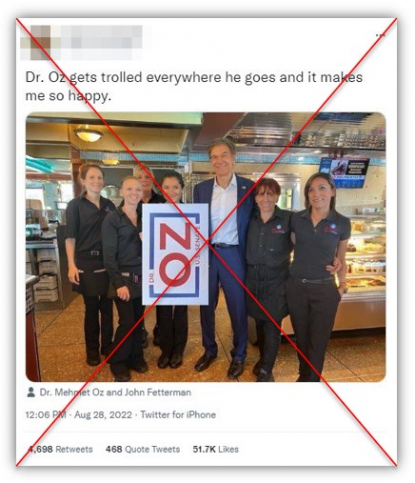 Screenshot of a tweet taken August 29, 2022
Screenshot of Mehmet Oz tweet taken August 29, 2022
"From the dinner table to the Capitol Diner here in Harrisburg, Pennsylvanians are ready for new leadership," Oz wrote in his posts sharing the photo.
Rachel Tripp, the Oz campaign's senior communications advisor, told AFP she snapped the original photo of Oz.
"I can confirm that the circulating image, with the Oz sign held vertically, is photoshopped and inauthentic," Tripp said in an email. "The original photo was taken by myself at Capitol Diner in Harrisburg on August 12."
AFP reached out to the Capitol Diner for additional comment.
A separate image posted to Twitter on August 28 -- which was liked more than 60,000 times and shared by the likes of Republican pollster Frank Luntz -- claims to show a yard with three campaign signs assembled in such a way that they said, "No on Oz."
As BBC journalist Shayan Sardarizadeh noted, the image is also manipulated; the signs were digitally added to a photo from the real estate company Zillow of a house in Pennsylvania. The original picture of the house does not include any Oz campaign posters.
Screenshot of tweet taken August 29, 2022
Screenshot from Zillow taken on August 29, 2022
AFP debunked another manipulated image of Oz here.