Facebook post falsely claims photos show 'snake' causing stampede at Kenyan campaign rally
Two photos have been shared hundreds of times on Facebook alongside a claim that they show a snake that caused a stampede in Nairobi at the final campaign rally of Raila Odinga, one of the two frontrunners in Kenya's presidential election taking place on August 9, 2022. But this is false: the images were taken at separate and unrelated events in 2014 and 2020. There were no reports of a stampede during the rally.
The photos were published on Facebook on August 6, 2022, and have been shared more than 900 times.
"Chaos at Kasarani Stadium after a snake slither its way through VIP Gate B moments after Raila Odinga arrived for his rally. Reports of several injured supporters have sufficed (sic)," the Facebook caption reads.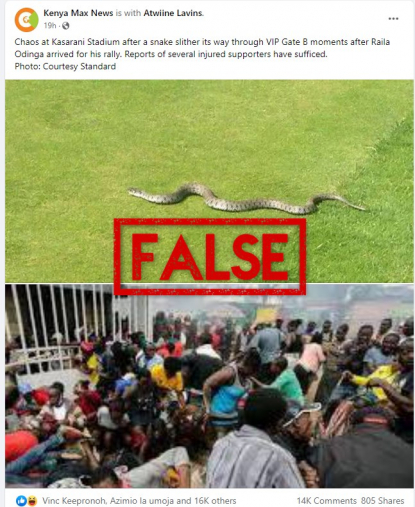 Screenshot showing the false post, taken on August 7, 2022
The post was published by a Facebook account called "Kenya Max News", which uses the logo of leading Kenyan news outlet Royal Media Services.
It includes two images: the first one shows a snake while the second captures a crowd of people fleeing.
After months of campaigning across Kenya's 47 counties, Odinga and his main election rival, Deputy President William Ruto, staged their final campaign rallies in Nairobi on August 6, 2022. Each addressed thousands of supporters.
Odinga, a former prime minister who is making his fifth bid for the presidency after losing on the past four occasions, held his rally at the 60,000-seater Kasarani stadium.
But the photos were neither taken at the Odinga event nor was a stampede reported.
Old unrelated photos
Reverse image searches revealed the first photo was taken at Southern Valley Golf Course in Gravesend in the United Kingdom in 2014 when a snake interrupted a tournament.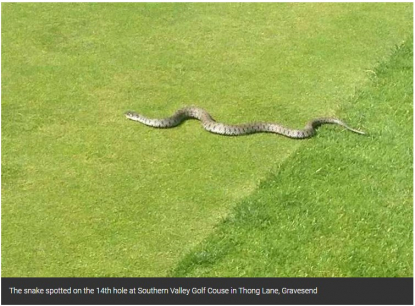 Original photo published by the UK's Kent Online news website on August 10, 2014
The second image, which has been flipped on Facebook, shows a stampede at a Covid-19 food relief distribution point in Nairobi's Kibera slums in April 2020. It is credited to photographer Khalil Senosi of Associated Press.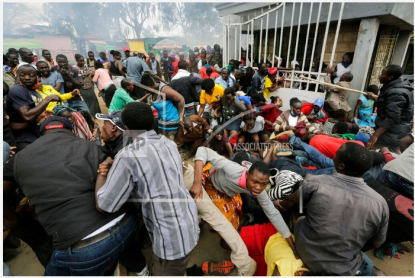 Original photo showing a stampede in Kibera slums in Nairobi in 2020 ( AP / Khalil Senosi)
No stampede
Dennis Onyango, a spokesman for Odinga's Orange Democratic Movement, told AFP Fact Check there was no stampede during the final rally in Nairobi.
"The stadium was packed and our supporters who attended were peaceful," said Onyango.
AFP journalists who attended the event also confirmed there was no stampede.