Michigan broadcaster error not evidence of election fraud
Michigan's primary election is on August 2, 2022, but some websites and social media users claim a local news broadcaster reported the results in advance. This is misleading; News Channel 3 said it inadvertently published mock tallies used for testing its election systems, and the Michigan Department of State confirmed no votes have been counted yet.
"LOL, Here is a great example of the press being involved in the fraudulent election process. MI GOP primary is next week and the press has already posted the results," says a July 24, 2022 Facebook post. "Selection, not election, watch out COLORADO."
The post is one of dozens surfaced to AFP by VineSight, a firm that uses artificial intelligence to detect potential online misinformation. Many link to a July 24 article from the Gateway Pundit, a conservative website that has previously published false claims of voter fraud.
"CAUGHT: Michigan News Channel Posts Results to Republican Primary Election — That's Not Until Next Week!!" the headline says.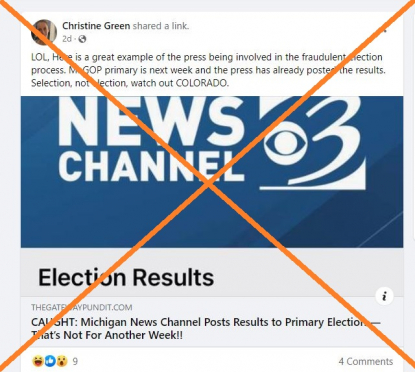 Screenshot of a Facebook post taken July 27, 2022
The article accumulated more than 7,000 shares on Facebook, according to CrowdTangle, a social media insights tool. It also spread on Twitter, Instagram and pro-Donald Trump websites.
"They're already cheating!" says a July 25 Facebook post that links to the Gateway Pundit story.
On August 2, 2022, Michiganders vote in the US state's primary election ahead of the November midterms. Candidates for governor, the state legislature and the US House of Representatives are all on the ballot.
The Gateway Pundit cites in its article and a July 25 follow-up an apparent screenshot of a webpage from News Channel 3, a CBS affiliate in Kalamazoo, Michigan. The image shows what appear to be results from the state's Republican primary election.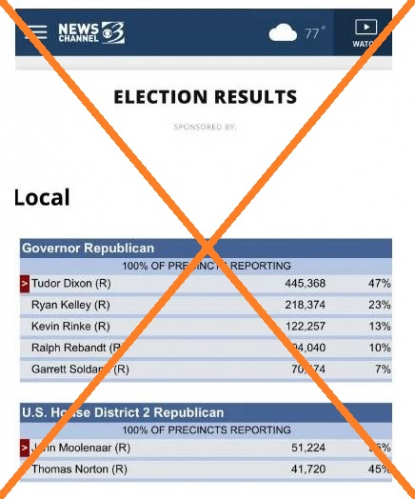 This screenshot taken July 27, 2022 shows supposed primary election results in Michigan
"RINO Tudor Dixon won!!" the Gateway Pundit said in its story, referring to what Trump supporters disparagingly call Republicans In Name Only. "AND … Trump hater Peter Meijer won his race too!!"
Those claims are inaccurate. While the page shown in the article is authentic, it does not depict real election results.
In a July 25, 2022 statement, News Channel 3 said the supposed vote tallies -- which AFP independently confirmed were published on the TV station's website -- were the result of an "election data error."
"In advance of Michigan's Tuesday, Aug. 2 primary election, News Channel 3 was conducting a test of its election systems last week," the local broadcaster said. "In doing so, the station inadvertently published mock results on WWMT.com. The numbers used were randomly generated and did not reflect actual results."
News Channel 3 added that there "has been no counting of ballots." The Michigan Department of State confirmed that in a statement tweeted July 25.
"Supposed 'results' of the Aug. 2 Michigan primary election from WWMT TV-3 appearing online and in Google search results are not real," the statement said. "No votes have been counted in the election."
The department, which oversees elections in Michigan, added that news media "often test their webpages with sample data ahead of elections to ensure they will function properly on election night."
"Online sites that regularly spread conspiracy theories, misinformation and other falsehoods have unsurprisingly seized on this as evidence of something nefarious when it is nothing more than human error by an organization that has nothing to do with election administration," the statement said.
News Channel 3 was not the only local media outlet to mistakenly publish the placeholder data. It also appeared on the website of WOOD TV8, an NBC affiliate in Grand Rapids, Michigan.
"Prior to any election, the Associated Press sends out test data to ensure that news organization election systems are operating correctly," the TV station said in a July 25 statement. "Since WOOD TV8 uses election results collected by the Associated Press, WOOD TV8 participates in the data tests."
The broadcaster added that the tests "must be conducted every election cycle to ensure that computer system updates or replacements do not interfere with the receipt of the data stream on election day."
The Associated Press (AP) provides survey data, vote counts and race calls to participating news organizations across the US. Lauren Easton, AP's director of media relations, told AFP in an email that the news agency "sends clearly labeled test data to its customers as part of its routine testing."
"The test data is randomly generated and is not based on any predictive analysis or polling," she said. "It is not for publication."
In a joint statement issued July 25, the clerks of Kent and Ottawa counties near Grand Rapids said the data published by local news outlets were "not provided by official election administrators, nor were our offices involved in any way."
Following the 2020 US presidential election, unsubstantiated claims of voter fraud spread widely on social media -- including in Michigan, a battleground state. Some misconstrued human errors as evidence of wrongdoing, such as when a Shiawassee County clerk mistakenly added a zero to a vote tally.
Isolated instances of suspected fraud have been detected since the November 2020 poll, but no court has backed the claim that it could have materially affected the results -- and federal officials have said the election was "the most secure in American history."
AFP has fact-checked other claims about voter fraud here, here and here.