Posts falsely offer 'Biden stimulus loans'
Social media posts advertise "Biden stimulus loans" of up to $40,000. But Congress has not approved any such program, and the website linked in the posts is operated by a private loan broker with no connection to the US government.
"(July 2022) We've been waiting for this and CNBC just announced it!" says a July 20, 2022 Facebook post. "Stimulus Loans up to $40,000 are finally available. Application process only takes 1-2 minutes."
The post features photos of US President Joe Biden and what appears to be a check. Similar Facebook posts link to a website that directs to an online loan broker soliciting applications.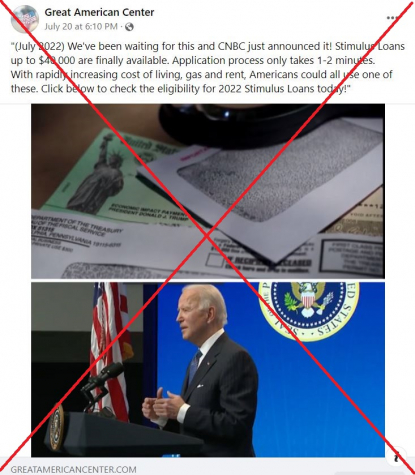 Screenshot of a Facebook post taken July 25, 2022
The website does not mention a link to a government program -- and the Biden administration has not approved a stimulus loan package.
"This is not a government program nor is it government aid, this is an advertorial for a loan service," says a disclaimer on the website shared in the posts.
The American Rescue Plan, which Biden signed on March 11, 2021, included emergency grants and business loans aimed at offsetting the economic impact of the coronavirus pandemic. But the package did not include personal loans, as the posts make it seem.
A US Treasury Department spokesperson told AFP the website's offer "is not a government program to the best of my knowledge."
The White House has proposed an additional economic plan called Build Back Better. But that does not include a personal loan program, either -- and the measure has not passed Congress.
The online messages are the latest in a series of deceptive social media posts that advertise private loans under the guise of government aid.
AFP has previously debunked other inaccurate claims about financial relief offers here and here.