Video falsely promises access to US relief program
A video posted to Facebook claims Americans can qualify for thousands of dollars via a new relief program, using purported footage from CNN to appear legitimate. But the clip is not from the US news channel, the posts offer no guarantee of economic assistance or a loan, and the National Consumers League called the video "incredibly deceptive."
"I'm literally in tears over this... One of the best decisions I ever made..." claims a May 19, 2022 Facebook post that includes a video promoting a "program" that has been "all over the news lately."
Pointing to a TV that appears to show CNN footage, the person in the video says: "A new benefit just got released last week, allowing Americans to claim up to $50,000. You don't need any credit history at all, no bank requirements."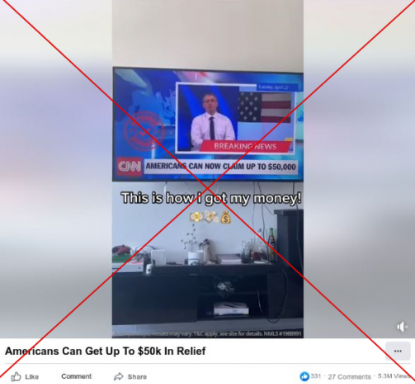 A screenshot of a clip shared on Facebook taken on May 23, 2022
But the post is falsely advertising a loan website as a "relief" program, using fake CNN footage,  AFP Fact Check found. 
Matt Dornic, CNN head of strategic communications, told AFP:  "That is not a real CNN report." 
A search on Critical Mention, a media monitoring tool, also showed no match to the CNN sequence shown in the Facebook clip. 
A reverse image search on Google did find a match for the the man next to an American flag seen in the video, but not on CNN's network. The image is, in fact, from stock footage, which is available commercially.
A similar ad, run by the same Facebook page, also claims Americans can "get a loan with bad credit," by answering a few questions on a website. 
Both posts are misleading, as the website they are promoting is not a lender or broker.
A disclaimer at the bottom of the website says it "does not broker loans to lenders; it does not make loans or credit decisions; it does not make insurance decisions. This website does not constitute an offer or solicitation to lend. Providing your information on this website does not guarantee that you will be approved for a loan or an insurance product," directly contradicting what is advertised in the posts on Facebook. 
John Breyault, vice president of public policy, telecommunications and fraud at the National Consumers League, said: "The ad itself is incredibly deceptive."
Breyault cautioned consumers "against ever providing any information to, or considering using" such type of loan product. "These online lenders, even the 'legitimate' ones, often charge incredibly high interest rates and fees," he said.
He said the posts should raise red flags for hiding the truth of the offer. No free money is on offer by engaging with the posts or website advertised.
"Any way you try and slice it, this ad and this product are at best incredibly deceptive and probably fraudulent," he said.
AFP Fact Check has previously debunked other inaccurate claims about financial relief offers made on social media, here and here.