Fake Instagram profile links Illinois shooting suspect to far-left antifa
Social media posts and online articles share a purported screenshot of an Instagram profile said to belong to the man accused of killing seven and injuring dozens in a mass shooting at a July 4 parade in Highland Park, Illinois, in an effort to link him to far-left ideology. This is false; an archived version of the suspect's Instagram profile does not resemble the image circulated online, and no clear motive has emerged in the killing spree.
"Bobby Crimo aka 'Awake The Rapper' the Highland Park shooter was an Antifa Far Left extremist," says a July 4, 2022 tweet with hundreds of likes and shares.
The post includes two photos. One appears to depict 21-year-old Robert Crimo wearing a hat sporting the letter "A," while the other purportedly shows his Instagram profile featuring an anti-fascist logo.
Screenshot of a tweet taken July 6, 2022
"Antifa" is short for anti-fascist, a term that describes a broad, loosely affiliated coalition of left-wing activists. AFP has previously reported on how the movement has been falsely blamed for everything from fires on the West Coast to the January 6, 2021 attack on the US Capitol.
Other posts sharing the purported screenshot of Crimo's Instagram profile have circulated on Facebook, Instagram and Twitter, according to CrowdTangle, a social media insights tool. The Gateway Pundit, a conservative website that has previously published misinformation, also shared the image.
"shooter is a liberal. We will never will hear about it again," says a July 4 Facebook post that shared the image.
Police arrested Crimo on July 4 after he allegedly opened fire on an Independence Day parade in Highland Park, a wealthy Chicago suburb. Prosecutors have charged him with seven counts of first-degree murder in connection to the mass shooting, the latest in a spate of deadly gun violence in the US.
Crimo has confessed to the shooting and admitted that he considered a second attack while on the run, according to law enforcement officials. His social media accounts, which showed a strong inclination for violence, were taken down after authorities named him a person of interest.
However, as other media outlets have pointed out, an archived version of his Instagram page differs from the one circulating online.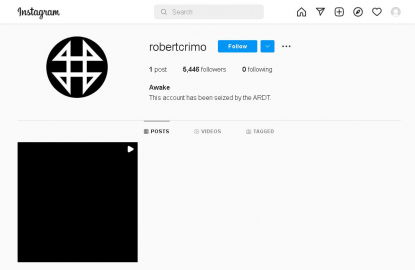 This screenshot taken July 6, 2022 shows an archived version of Robert Crimo's Instagram profile
Before it was removed, Crimo's Instagram page had more than 5,400 followers. The profile's handle, description and avatar were identical to those he used on Twitter, where Crimo posted several photos and videos of himself in 2021 -- prior to the July 4 shooting.
Both Crimo's Instagram and Twitter profiles were linked in the bio of his YouTube channel, which was also removed after the attack in Highland Park. Using the stage name "Awake the Rapper," Crimo posted songs and videos -- some of which made reference to mass shootings -- that accumulated thousands of views.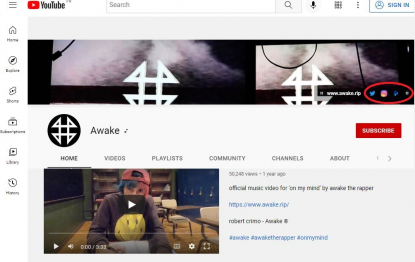 This screenshot taken July 6, 2022 shows an archived version of Robert Crimo's YouTube channel
All three social media profiles were shared on a website linked to Crimo, which has been removed. The website, as well as the YouTube channel and another site linked to Crimo, also promoted his now-deleted PayPal account.
This screenshot taken July 6, 2022 shows Robert Crimo's now-deleted website
Some social media posts sharing the image of Crimo's supposed Instagram profile indicate the page was newly created. The account, whose handle did not resemble any of Crimo's other social media profiles, appears to have had few followers and was recently updated before being removed.
The symbol used on Crimo's social media does not appear to be associated with any antifa imagery. AFP did not find any exact matches, but some reports said it resembles a symbol used by some far-right groups.
AFP found no other evidence that the Instagram account being shared belonged to Crimo. AFP reached out to Instagram for additional comment.
After the Highland Park shooting, speculation that Crimo was motivated by partisan ideology spread online. However, Illinois law enforcement officials said on July 5 that the reason for the attack was unclear and appeared to be "completely random."
"We have no information to suggest at this point it was racially motivated, motivated by religion or any other protected status," said Christopher Covelli, a spokesman for the Lake County Sheriff's Office, during a press conference.
Extremism experts have said that, based on Crimo's online presence, there does not appear to be an explicit political motive behind the shooting.
A close-up map locating Highland Park near Chicago, Illinois, plus factfile on the mass shooting that left at least seven people dead at a US Independence Day parade on July 4 ( AFP / Laurence CHU, Janis LATVELS)
"He seems to have intended violence for a long time, even illustrating it," said Emerson Brooking, a senior resident fellow at the Digital Forensic Research Lab of the Atlantic Council, in a July 4 tweet. "But so far it does *not* appear that he was partisan or ideological in the way of the Buffalo or El Paso terrorists."
Bennett Brizes, an artist and student at the Otis College of Art and Design in Los Angeles, said on Twitter that he knew Crimo and that he's "not antifa" or "some maga overlord."
"I know that shit sounds really interesting. But it's not the truth," Brizes said in a July 4 tweet. "He was an isolated stoner who completely lost touch with reality."
AFP reached out to the Lake County Sheriff's Office for additional comment.
July 7, 2022 This article was updated to correct metadata