Fabricated story about actor Alec Baldwin 'execution' spread in QAnon group
An article claiming US actor Alec Baldwin was executed is circulating in social media groups, including a page with thousands of followers linked to the QAnon conspiracy theory. However, the claim originated on a website that regularly posts articles falsely announcing the execution and arrest of celebrities and politicians, disclosing on a separate page that its reports are intended as satire. 
"Crazy Alec Baldwin hanged. Guys, Baldwin finally got executed," reads a Korean-language post on Daum Cafe from June 3. 
The post was shared in a community called "Tales of Trump and his Knights", which has more than 14,000 followers and regularly pushes QAnon conspiracy theories.
The community regularly updates a list of purported arrests and executions of prominent figures that its members believe are against "Q", an anonymous figure claimed to be a high-ranking US government official with access to classified information about the Trump administration and its opponents.
Actor Alec Baldwin, a fierce Trump critic, is a frequent target of misinformation by the group.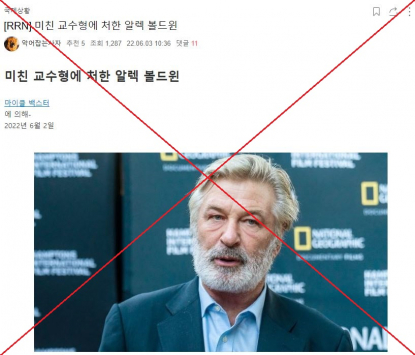 Screenshot of the false claim shared on Daum Cafe, taken on June 10, 2022
The post shows a Korean translation of an article from Real Raw News about Baldwin's purported execution.
Screenshots from the Real Raw News article were shared on Facebook pages in Australia and the United States and in a Telegram group with more than 30,000 members.
However, Real Raw News features a disclaimer on its 'About Us' page that reads: "This website contains humor, parody, and satire."
AFP has previously debunked articles from the same site that were passed off as genuine news, including fabricated stories about the arrests of high-profile figures, child trafficking cases and Covid-19 vaccines.
However, some social media users appeared to believe the claim was true.
"They should not hesitate when they execute guilty people regardless their celebrity status!" one comment read.
"Goodbye Alec," another wrote.
A keyword search on Google on June 13, 2022 did not find any credible news articles about Baldwin's alleged execution.
The actor was active on Instagram since the article was published, reposting a tribute to his late mother on June 9 and promoting a crowdfunding campaign for a teacher on June 10.
The posts circulated following intense media attention on Baldwin over the shooting death of cinematographer Halyna Hutchins on the set of the Western film "Rust". The actor was holding a Colt gun during a rehearsal for the film in New Mexico in October 2021 when it discharged a live round, killing Hutchins and wounding director Joel Souza.
Police have not yet filed criminal charges over the tragedy, but have refused to rule out charges against anyone involved, including Baldwin.
Hutchins's family has sued Baldwin and other "Rust" producers, claiming "substantial" damages for her wrongful death.