Philippine election watchdog rejects video of 'leaked' ballot paper
With the Philippine presidential race in full swing, a video surfaced in Facebook and TikTok posts viewed more than one million times that claimed it showed an official ballot paper "leaked" by the election commission Comelec. However, a spokesman for the watchdog said the video showed a sample ballot. The document was missing various features of the official ballot design for the May elections.
"Be alert. Let's not shade any ballot before election day. Why is there a leaked ballot paper from Comelec?" reads a Tagalog-language Facebook post from March 29.
The two-minute video, viewed more than 580,000 times, shows a close-up of a ballot paper, with two women talking in the background.
"What is this really for?" one asks in Tagalog.
"You just need to shade the name of your preferred senatorial candidates," the other replies.
The first woman hesitates and says: "Is it okay if I don't answer this? I don't know where you're from".
The women's faces are not visible and it is not clear why one of them is being asked to fill in the ballot paper.
Tagalog text superimposed on the clip reads: "They're working triple time to distribute this. Why is the ballot already out?"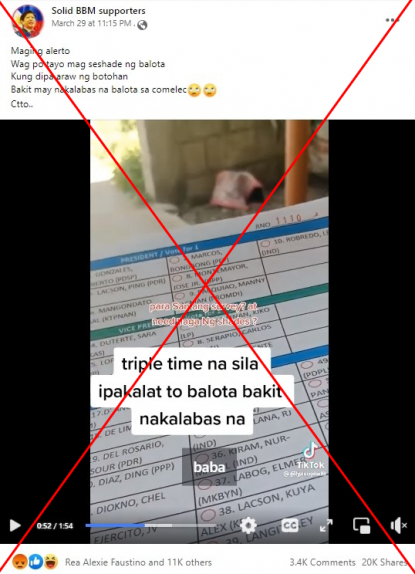 Screenshot of false post taken on April 1, 2022
The video was shared by a Facebook page called "Solid BBM supporters", referring to Ferdinand "Bongbong" Marcos Jr, the son of the country's former dictator and favourite to win the Philippine presidential election.
Pro-Marcos Jr accounts have previously spread baseless accusations of fraud in the upcoming vote, as a massive misinformation campaign aims to revive the family brand and smear his top rival.
The video was viewed more than one million times in similar posts on TikTok and Facebook here and here.
The posts surfaced after the Commission on Elections (Comelec) was accused of lacking transparency by observers who said they had been prevented from witnessing the printing of official ballot papers.
Comelec eventually allowed observers to inspect randomly selected ballots from its warehouse, insisting that the pandemic had stopped it from letting them in sooner.
The watchdog also set up a livestream of ballot printing.
'Ballots already out'
Some social media users appeared to believe the footage showed an official ballot paper.
"Oh no, this is fraud. The ballots are already out before elections!" one person commented.
"You foolish Comelec, you should be punished for this," another wrote.
However, the claim is false.
Comelec spokesman James Jimenez referred AFP to a tweet from March 30 in which he said the video did not show an official ballot paper.
That is NOT an official ballot. It's just a sample ballot, based on ballot designs that are available on the COMELEC website, being used for what looks like polling or surveying activities.

If you don't want your vote known by anyone, then don't participate in these surveys. https://t.co/HNBCZ1mdAr

— James Jimenez (@jabjimenez) March 29, 2022
For the last three elections, Comelec has uploaded various ballot face templates on its website, which show the official design of ballots used for that election period and the candidates for the more than 18,000 elective posts.
In a separate tweet, Jimenez said that printing sample ballots based on Comelec's official design was "not prohibited".
He told AFP on March 31 that ballot printing was still ongoing.
Official design
Furthermore, the ballot paper seen in the video circulating online is missing various features of the official ballot for the May elections, as seen on Comelec's website.
The ballot in the video does not show which type of election or which locality it is for; instructions for voting; a voting precinct ID that corresponds to a specific vote-counting machine; a QR code; a signature box for the chair of the electoral board; and security features such as the timing marks on all sides of the ballot.
Below is a screenshot comparison of the ballot paper in the false posts (left) and the official ballot's design on Comelec's website, with key features highlighted by AFP (right).
Screenshot comparison of the ballot paper in false posts (L) and official ballot's design on Comelec's website, with key features highlighted (R)
Comelec director Jeannie Flororita explained the key features of the official ballot in a presentation on March 22.
The official ballots also contain ultraviolet security markings, she added.
Correction: This story was updated on April 5 to correct a typo in the summary.