CNN report about Russian warplanes in Venezuela is from 2018 and unrelated to Ukraine war
A Facebook post shared thousands of times in Nigeria claims that Russia has sent two nuclear bombers to Venezuela, landing them in what it describes as the "US backyard". The claim, however, is misleading; while the events mentioned in a CNN report included in the post did take place, they happened in 2018 and have nothing to do with Russia's invasion of Ukraine.
The Facebook post published on February 28, 2022, garnered more than 14,000 shares while the video has been viewed nearly two million times.
It shows a news report more than four minutes long on CNN's "The Situation Room", with presenter Wolf Blitzer discussing the arrival of two Russian nuclear-capable warplanes in Venezuela and the consequences for the United States.
"Russia deploys two nuke bombers in US backyard, Venezuela," read the post's caption.
A screenshot of the misleading Facebook post, taken on March 8, 2022
Similar posts about the bombers were shared here and here on Facebook.
Although the claim these Russian bombers went to Venezuela is accurate, the timing of the post lacks critical context and misleadingly links two unrelated events four years apart.
Old news
AFP Fact Check ran a reverse image search on keyframes from the video using InVID-WeVerify, a video verification tool.
This led us to the original CNN report by Brian Todd from December 12, 2018, uploaded here on YouTube.
"Russian President Vladimir Putin is on America's doorstep in Venezuela with nuclear-capable bombers that can fly twice the speed of sound," reads part of the video's caption.
Another article on the same topic published by Time magazine on December 13, 2018, explained that the Tu-160 bombers, which landed in Venezuela, are among the most advanced strategic warplanes in the world, carrying both conventional and nuclear-armed cruise missiles that have a range of more than 3,400 miles (5,472 kilometres).
Two Russian Tupolev Tu-160 strategic long-range heavy supersonic bomber aircrafts land at Maiquetia International Airport, just north of Caracas, on December 10, 2018 ( AFP / )
Reports said the aircraft flew to Venezuela in 2018 for a joint training exercise, but experts at the time believed the move was designed to showcase Moscow's growing military prowess and as a show of support for the South American country's leader, President Nicolás Maduro.
This took place years before Russia's invasion of Ukraine, which began on February 24, 2022.
The situation in Ukraine
Russia announced humanitarian corridors would open in several Ukrainian cities on March 7, 2022, after terrified civilians came under fire in two previous evacuation attempts.
As reported by AFP, the announcement came after another night of relentless bombardment by Russian forces from the air, land and sea, and with Ukraine's President Volodymyr Zelenskiy accusing Moscow's troops of "deliberate murder" over civilian deaths.
More than 1.5 million people have fled across Ukraine's borders, though many others are displaced internally or trapped in cities being reduced to rubble by Russian bombardment.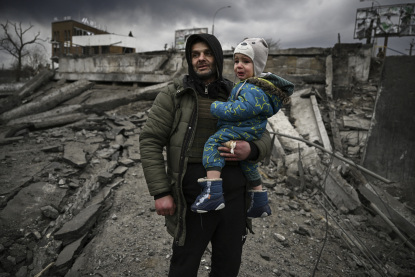 A man holds a child as he flees the city of Irpin, west of Kyiv, on March 7, 2022. ( AFP / )
AFP Fact Check has debunked numerous false or misleading claims about the Ukraine war.