Video game falsely shared as 'live footage' of Ukraine conflict
As Russia pressed on with its invasion of Ukraine, a video clip was viewed thousands of times in Facebook and YouTube posts that claimed it showed live footage of the fighting. In reality, the footage was taken from a combat video game called ARMA 3.
"War/Russia vs Ukraine war," reads a Facebook post shared on February 17.
The video, viewed more than 5,000 times, shows artillery firing missiles at fighter jets alongside the text "BREAKING NEWS" and "LIVE".
Screenshot of false post taken on February 26, 2022
Similar posts circulated on YouTube and on Facebook here and here.
More than half a million people have fled Ukraine since Russia launched a full-scale invasion on February 24, shelling the second city Kharkiv as residents in the capital Kyiv braced for an assault on March 1.
Some social media users appeared to believe the footage shared online showed the fighting.
"Russia's good at dodging those bullets," one person commented.
"Great that the two aircraft from Russia exploded, serves them right," another wrote.
However, the video has been shared in a false context.
A reverse image search found the scenes in the video in various YouTube videos here, here and here posted between December 2020 and January 2021 on the same channel.
The description of the channel, Compared Comparison, states it creates "modern and realistic cinematic war films".
The owner of the YouTube channel told AFP the video showed computer-generated images.
"That video clip was created by me and by using ARMA 3. Sadly, many people upload my videos somewhere else and claim it as real footage," he said.
ARMA 3 is a war-themed video game released in 2013 by Czech-based game developer Bohemia Interactive.
Below are screenshot comparisons of the video in false posts (left) and clips from the 'Compared Comparison' YouTube channel (right).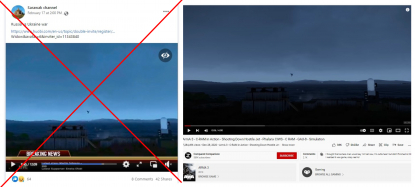 Bohemia Interactive said the video in the false posts was taken from ARMA 3.
"Indeed it appears to be taken from a heavily moded/customized ARMA game", spokesman Pavel Křižka told AFP.
AFP has previously debunked videos misrepresenting ARMA 3 simulations as footage of real-life battles here, here, here and here.