This clip actually shows computer-generated imagery from a video game
A video has been viewed tens of thousands of times in multiple posts on Facebook, Twitter and YouTube alongside a claim it shows an Azerbaijani fighter jet downed by an Armenia attack during continued clashes over Azerbaijan's separatist region of Nagorny-Karabakh. However, the claim is false; the clip actually shows computer-generated imagery from a war video game called ARMA 3.
The two-minute, 11-second video was published in this Facebook post on October 8, 2020.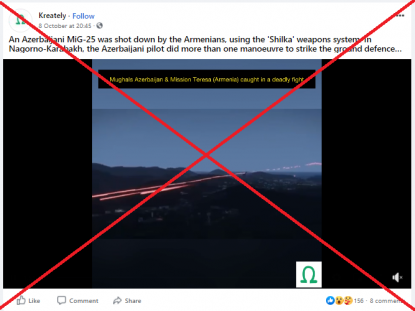 Screenshot of misleading Facebook post
The post's caption reads: "An Azerbaijani MiG-25 was shot down by the Armenians, using the 'Shilka' weapons system. In Nagorno-Karabakh, the Azerbaijani pilot did more than one manoeuvre to strike the ground defences of the Armenian air defence forces. A fierce war is in progress."
Nagorno-Karabakh is a disputed region in the South Caucasus, internationally recognised as part of Azerbaijan. On September 27, fresh clashes erupted between Azerbaijan and Armenia over the territory, resulting in the heaviest fighting since a 1990s war that killed some 30,000 people. According to this AFP report dated October 14, 2020, shelling has continued despite a ceasefire and hundreds have been killed and thousands displaced in the fighting.
The video was also shared here, here, here and here on Facebook; here, here, here and here on Twitter; here, here, here and here on YouTube, alongside similar claims.
The claim, however, is false.
A reverse image search on Google using keyframes extracted with InVID-WeVerify, a digital verification tool, found a longer version of the video published here on YouTube on August 22, 2020.
The video's Japanese description translates to English as: "A-10 Thunderbolt Warthog Thunderbolt CRAM CIWS(Close-in weapon system) ARMA3 ARMA3".
ARMA3 is a war-themed video game released by the Czech-based game developer Bohemia Interactive in 2013.
Closer examination of the YouTube channel also revealed it has uploaded several other videos of scenes from ARMA3, such as this and this.
Below is a screenshot comparison of the video in the misleading posts (L) and the YouTube video (R):
Image comparing screenshot
Similar videos created using ARMA3 have also circulated online with misleading claims that it shows an Iranian missile strike in Iraq. AFP debunked the claim here in January 2020.