All grades in South Africa are scheduled to complete the school year, not repeat it
Facebook posts shared in South Africa claim that some grades will be repeating the current school year in 2021. However, this is false; no such announcement has been made, and the school year calendar has in fact been amended by the education department in an attempt to recover the time lost due to the Covid-19 pandemic.
One Facebook post shared more than 300 times claims: "BREAKING news!!! Grd 8, 9 & 10 will be repeating their Grades Next Year."
A screenshot taken on August 26, 2020 of the misleading Facebook post
Similar claims are repeated in a blog post on August 17, 2020, which says: "grade 8,9,10 and 5 will have to start afresh in 2021".
The claims are false. On August 1, 2020, a few days after South Africa's President Cyril Ramaphosa announced a revised school calendar would be implemented, the department of basic education published a media release and a revised school calendar.  
"In terms of the new version of the calendar schools will resume on 24 August 2020. [There] are 163 actual school days for teachers and 156 for learners," reads the statement.
It adds: "The school year will be completed on 15 December 2020 for Grade R-11 and that is not carried over to the first quarter of 2021."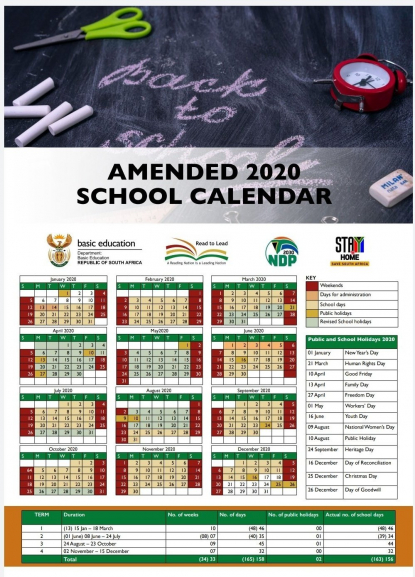 The amended 2020 school calendar from an official government tweet on August 3, 2020
The Minister of Education, Angie Motshekga, spoke on August 25, 2020, during a virtual parliamentary debate on the reopening of schools, where she reiterated the efforts in place to redeem the school year.
"Since the advent of the Covid-19 pandemic and resultant lockdown, we have endeavoured to rescue the academic year while protecting lives at all costs. Against all the odds, it is now with a degree of comfort that we point out -- we are on course to rescue the sector from ruins that this virulent pandemic has caused," said Motshekga.
She explained that the strategy to rescue the 2020 academic year partly hinges on curriculum trimming for all grades except grade 12.
"I am happy to report that, as of yesterday [August 24], we successfully opened our school gates to learners in Grades R, 1, 2, 3, 4, 6, 9, 10, and 11. The final set of grades, namely Grades 5 and 8, will be returning on 31 August 2020 as per our previous commitment."
As reported by Times Live, the decision to recover the school year has been met with some backlash from unions who are concerned the schools are not ready, and by some pupils and teachers feeling pressured by the prospect of finishing the curriculum in the revised time period. 
As of August 26, 2020, South Africa has recorded 13,502 Covid-19 deaths, 615,701 positive cases, and 525,242 recoveries.