Who can vote? Canadian electoral reform facts vs. fears
Social media posts about a recently passed Canadian bill which expanded the right to vote in federal elections led some people to believe that foreigners will be eligible to vote. The bill grants Canadian citizens living abroad voting rights, regardless of how long they have lived outside of Canada, but citizenship remains a core requirement to be allowed to vote, no matter one's country of residence.
Online claims related to the recent Canadian electoral reform, also known as Bill C-76, have many social media users expressing worry that foreigners will vote in the upcoming federal elections. The ambiguous phrasing used in the posts contributes to this flawed perception.
One Facebook post shared more than 4,000 times features a photo of Canadian Prime Minister Justin Trudeau standing next to Immigration Minister Ahmed Hussen, who did not play a direct role in the reform passed in December 2018. The text on the meme reads, "Trudeau govt permit 2.8 million non-residents to vote in 2019." The post's caption mentions Trudeau buying votes from immigrants and refugees without proof or source.
Screenshot taken on January 16, 2019 of a Facebook post
The use of the word "non-residents" to refer to Canadian citizens living abroad, alongside references to immigration and refugees, led many to believe that non-citizens could now legally vote in Canada. In the comments, outraged netizens write that, "If you're not a citizen you should not be aloud to vote" and wonder, "What happened to not being able to vote unless you were a Canadian Citizen?"
Screenshot taken on January 16, 2019 of a Facebook comment
Screenshot taken on January 16, 2019 of a Facebook comment
Another post, shared hundreds of times on Instagram, states that the right to vote will be extended to "non Canadian residents." While a non-resident Canadian, or a citizen of Canada living outside the country, can vote, a non-Canadian resident, or a foreigner living in Canada, cannot. The post plays on semantic subtleties to mislead its readers.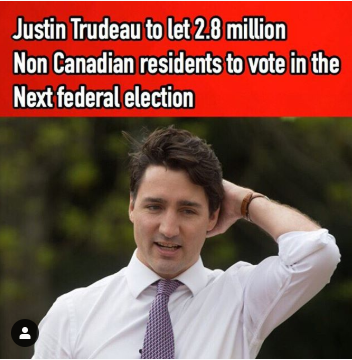 Screenshot taken on January 16, 2019 of an Instagram post
"In order to vote in Canadian elections, one has to be a Canadian citizen of course," Natasha Gauthier, Senior Advisor for Media Relations at Elections Canada, the government agency that oversees the Canadian electoral process, told AFP.
Canadian emigrants, not foreign immigrants
The basic statement that non-resident Canadians will now be able to vote in federal elections is true. A law passed in 1993, under former Conservative Prime Minister Brian Mulroney, extended voting rights to Canadians abroad, but excluded those who had spent more than five consecutive years out of Canada.
The electoral reform moved by Trudeau's Liberal government, which will come into law in June, repeals this provision. Canadian citizens will now be allowed to vote no matter how long they have lived outside the country, even if they have no intentions of returning to Canada.

Screenshot of Bill C-76
A Supreme Court of Canada judgment rendered on January 11, 2019, further cemented the electoral reform in Canadian law by finding that voting is a constitutional right for all Canadian citizens.
This means that all Canadian citizens living abroad will be eligible to vote in the upcoming elections.
According to one estimate from 2011 by the Asia Pacific Foundation of Canada, a think-tank created by Act of Parliament, the number of Canadians abroad was 2.8 million.
Residents of Canada who are not citizens will not be allowed to vote, as the recent legislation specifies.
Screenshot of Bill C-76
This provision of Bill C-76 was already the target of disinformation. Online sources claimed new rules regarding voter identification would allow non-citizens to vote, but voting as a non-citizen is an offence punishable by a fine of up to $5,000 and/or six months in prison.