Videos purporting to show violence during recent elections in Zanzibar are old and unrelated
Two videos claiming to show recent violence in Zanzibar following a disputed election have been viewed thousands of times on Twitter. The claims are false: one of the video clips dates back to 2005 while the other was debunked earlier this year by AFP Fact Check after it was used falsely to depict Nigerians protesting against a Supreme Court ruling.
"This is Zanzibar today army is shooting," reads a tweet from October 25, 2020, viewed more than 5,000 times.
From above, the video in the tweet shows a large crowd converging on a dusty street before the people suddenly scatter in all directions after hearing what sound like gunshots.
The clip appears to be speeded up and the action moves at a noticeably rapid pace.
A screenshot of the false tweet, taken on October 30, 2020
Four days later, another video was tweeted, this time with the logo of American news agency the Associated Press (AP). 
"Things not looking good in Zanzibar #ZanzibarLivesMatter," the tweet claimed.
In it, a 30-second clip shows armed security officers engaging in running battles with civilians and streets barricaded with burning tyres.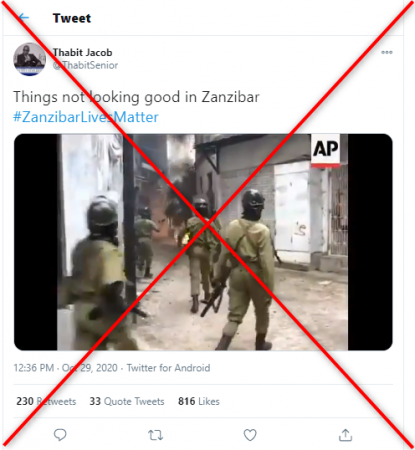 A screenshot of the false tweet, taken on October 30, 2020
However, neither video is recent and both are unrelated to the election in Zanzibar on October 28, 2020.
Using the verification tool InVID-WeVerify, AFP Fact Check ran reverse image searches on keyframes from the first video and found that the clip has been used before to depict a traders' protest in Uganda (here and here), a riot in Mali and a protest in Nigeria against a Supreme Court ruling that removed a state governor.
AFP Fact Check had already debunked the same video here in January 2020, and established that it was posted online a day before a state election in Nigeria was nullified by the Supreme Court. While the precise location of the video remains unknown, its prior publications on social media mean it wasn't shot during this week's election in Zanzibar.
The second video with the AP label was found in the American news agency's archives on YouTube (here) and on its website (here). The agency's archives indicate that the clip was shot in 2005, capturing unrest in Zanzibar after a disputed election at the time.
Zanzibar's current situation
Zanzibar, which is Tanzania's semi-autonomous archipelago, has a history of violence-plagued polls.
Both Zanzibar and Tanzania held elections this week but opposition leaders have claimed that the twin polls were marred by fraud and called on their supporters to demonstrate peacefully.
In Zanzibar, AFP reporters witnessed security forces fire teargas and live rounds, and assault civilians on the island.