This video shows fires in Mexico and the United States 
Facebook posts shared thousands of times contain a video they claim shows a deadly blaze at an Israeli gas plant after hundreds of Palestinians were killed by Israeli strikes in Gaza in May 2021. But the claim is false: the footage actualy shows a fire at a chemical plant in Texas in 2011 and an explosion at a gas facility in Mexico in 2012.
"God's wrath has started. A deadly fire in Israeli gas field," says the Bengali-language caption on a Facebook post from May 22, 2021.
The misleading post has been shared more than 14,000 times.
The accompanying video shows plumes of black smoke billowing from an industrial building, which is engulfed by a huge fire.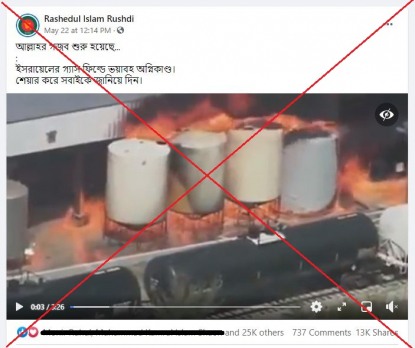 The same video was also posted here, here, here and here on Facebook alongside a similar claim.
The footage surfaced in the wake of a violent escalation in tensions between Israel and Hamas.
Israeli strikes on Gaza killed 260 Palestinians, including 66 children, the Gaza health ministry said, while 13 people were killed in Israel as tensions between Israel and Hamas spiralled into 11 days of fighting in May 2021.
However, the claim is false.
A reverse image search using keyframes from the video found several shots were taken from a video posted on YouTube on October 4, 2011, with the headline ''Texas chemical plant fire October 3, 2011''.
Below is a comparative image of two screenshots, taken from the video circulating in misleading posts (left)and from the YouTube video from 2011 (right):
Google keyword searches found more reports on the incident. This report from Wall Street Journal features similar footage of the blaze at a chemical plant in the south of Dallas, Texas on October 3, 2011.
Nobody was injured in the blaze, but the plant, nearby buildings and a school were evacuated, the Wall Street Journal reported.
More footage of the incident can be  found on the YouTube channels of British newspaper The Telegraph and AP news agency here and here. 
AFP traced another frame from the footage to a video of a deadly explosion that struck a Mexican gas plant near the US border in 2012.
A reverse image search on Google found the footage in news reports about the blast which killed 30 workers at a site in the northeastern state of Tamaulipas on September 18, 2012.
The same video has previously circulated in a misleading context. AFP debunked reports claiming it showed drone attacks on a Saudi oil refinery in September 2019.
While a fire genuinely broke out in a depot near a gas complex near Ashkelon, Israel after it was hit by a Hamas rocket during clashes in May, this is not the fire shown in the footage.