This video shows a ferry disaster in the Bali Strait in 2016, not 2021
A video has been viewed thousands of times in multiple posts on Facebook, Twitter and YouTube alongside a claim it shows a boat sinking off the coast of Indonesia's Bali island in early February 2021. The claim is false: the video has circulated online in reports about a ferry disaster in the Bali Strait in March 2016. 
The video was posted here on Facebook on February 6, 2021. It has been viewed more than 2,000 times.
Screenshot of misleading post, taken on February 10, 2021
"The ship sank today, Friday, February 5, 2021 in Gilimanuk," the Indonesian-language caption reads. "Hopefully the passengers will be saved and no one will die."
Text superimposed on the footage reads: "Sinking ship today, Friday, February 5, 2021, in Gilimanuk". 
Gilimanuk refers to Gilimanuk Harbour, in Bali's Jembrana regency. 
The same footage was shared with a similar claim on Facebook here and here, on Twitter here and here, as well as on YouTube here and here. 
However, the claim is false.
Reverse image and keyword searches on Google found this video posted by local media Tribun Jogja on its YouTube channel on March 5, 2016. It is titled: "Amateur Video Moments of the Revalia 2 Ferry Sinking in Bali Strait".
The Bali Strait is a strait separating Bali island and Java island.
Below is a screenshot comparison between the footage in the misleading post (L) and the Tribun Jogja video (R):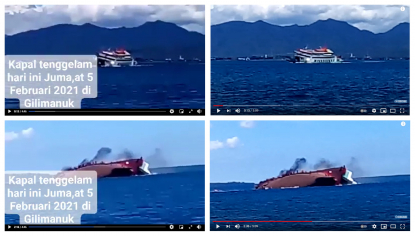 Screenshot comparison between footage in the misleading post (L) and Tribun Jogja's video (R)
The Jakarta Post, an Indonesian English-language newspaper, reported on March 4, 2016, that the ferry capsized in the Bali Strait while travelling from Gilimanuk to Banyuwangi, a town in eastern Java. Six people were killed in the disaster, according to this Detik.com report. 
Jembrana police, which administers Gilimanuk, posted on its Facebook page on February 6, 2021, that the clip is "an old video of the incident on March 4, 2016". 
A Jembrana police official told AFP via WhatsApp message on February 10, 2021 that "there was no incident" at Gilimanuk Harbour in the first week of February. 
AFP previously debunked the same video after it circulated with another false claim that it showed a ferry sinking in Lake Toba, in Indonesia's Sumatra island, in January 2019.