This video has circulated in reports about a military commander's funeral procession in Iran in January 2020
Aerial footage of a large procession of people has been viewed hundreds of thousands of times on Facebook alongside claims that the video shows protests in the US during the COVID-19 pandemic The claim is false; the video has circulated in media reports about people in Iran attending a funeral procession for military leader Qasem Soleimani in January 2020.  
The 43-second video was published on Facebook here on June 6, 2020. It has been viewed more than 187,000 times and shared 3,500 times since.
The Indonesian-language post translates to English as: "This is a protest in America. now during the #COVID ー 19 pandemic
"If in 1 week corpses are lying in America it means coronavirus is malignant and real. but if nothing happened it means think about it yourself.. ??
"*wisdom of usa protest in covid19 *
#COVID_19
#ChinaVirusKonspirasi".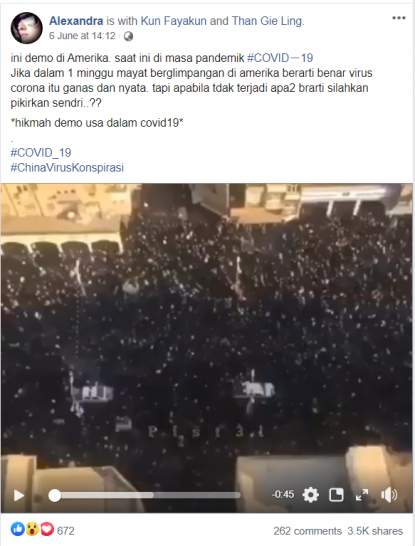 Screenshot of the misleading Facebook post, taken on June 24, 2020
The post circulated as anti-racism protests erupted across the US following the death of Geroge Floyd, an unarmed black man who was killed by police on May 25, 2020, as AFP reported here.   
The footage was also viewed tens of thousands of times alongside similar claims on Facebook here, here, here and here. 
The claim, however, is false. 
Reverse image and keyword Google searches found the same footage was published on January 5, 2020, here on the YouTube channel of English-language news site Al-Masdar News. The clip shows the same video with a 90-degree rotation. 
The clip's caption reads: "Thousands of people poured into the streets of Ahvaz, Iran on Sunday to bid farewell to the long-time commander of the Islamic Revolutionary Guard Corps' Quds Force, Major-General Qassem Soleimani." 
Ahvaz is a city in southwestern Iran. 
The same clip, with the same rotation as the video in the misleading post, was also posted on Twitter here on January 5, 2020. 
The tweet reads: "Aerial video of Soleimani funeral in Ahvaz, Millions of mourners flood the streets to pay their respects to Iranian military commander Qassem Soleimani."
Below is the screenshot comparison between the clip in the misleading post (L), the misleading footage rotated 90 degrees (C), and the genuine YouTube footage (R):
Screenshot comparison between the footage in the misleading post (L), the misleading footage rotated 90 degrees (C), and the genuine YouTube footage (R)
On January 5, 2020 – two days after Soleimani was killed in a US drone strike – thousands of mourners packed the streets in Ahvaz to pay respect to the top general, AFP reported here.
The massive procession in Ahvaz on January 5, 2020, was also reported by Al Jazeera and Storyful.