This video of a busy market during the pandemic was filmed in Pakistan, not India
As India's coronavirus death toll soared, a video of shoppers at a packed market surfaced in Facebook posts alongside a claim it was filmed in Delhi. The claim is false: the video has circulated in news reports since April 2021 about a market in Lahore -- Pakistan's second-largest city -- where authorities have closed a string of shops for flouting coronavirus rules. 
The video was shared on May 10, 2021 in this Facebook post. It has been viewed more than 12,000 times.
"Scenes from Zafarabad, New Delhi. It looks like Prime Minister Modi has already started his campaign for Delhi elections," the post's Hindi-language caption reads.
The caption appears to reference criticism of Indian Prime Minister Narendra Modi and politicians from his Bharatiya Janata Party, who organised huge rallies during April's election in West Bengal.
Coronavirus cases and deaths shot up in the state after the poll.
Screenshot of the Facebook post, taken on May 13, 2021
India's coronavirus death toll surpassed 250,000 on May 12, 2021.
Many experts believe the official numbers of people dying in India --which has one of the world's poorest-funded health care systems --underestimate the true death toll.
The video circulated widely on Facebook alongside a similar claim, including here, here and here.
The claim is false: the video does not show a market in Delhi.
A reverse image search found the same video posted on YouTube by Pakistani news channel Raabta TV on April 26, 2021.
"Coronavirus failed in Ichra Bazar, Crowd of Public busy in Eid Shopping," the video's title reads. 
A keyword search for "Ichhra Bazar" revealed various news reports about people flouting coronavirus restrictions, known as standard operating procedures (SOPs), at the market in Lahore, Pakistan.
Pakistani newspaper Dawn reported on April 28, 2021 that troops were patrolling Ichhra Bazar and other markets around the city to enforce social distancing and mask-wearing. 
"A team entered Ichhra Bazaar and warned many people of action in case of not following the SOPs. Many people, while seeing the team, immediately started wearing masks," Dawn quoted a bystander as saying.
Muhammad Ibrahim Arbab, the Assistant Commissioner for Model Town, Lahore, posted photos of a patrol at Ichhra Bazar on Facebook on April 27, 2021.
He said 15 shops were closed and several were warned about breaking coronavirus restrictions.
Visual clues in the footage show it was filmed in Pakistan.
Shops signs in the video are written in Urdu, including two signs outside clothing stores in the screenshot below.
Urdu is the official language of Pakistan and is not widely spoken in Delhi, where the official language is Hindi.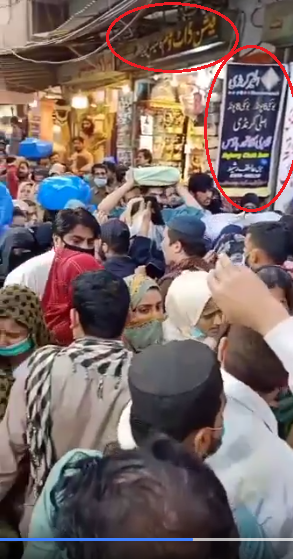 Screenshot of the footage with visual clues circled
AFP has previously debunked posts falsely claiming to show India during the pandemic here and here.