These photos show mother of sextuplets in Texas, not Malian mom who had nine babies
Photos of a woman in a hospital bed and several newborns in incubators have been shared repeatedly in Kenya in Facebook and Twitter posts telling the story of 25-year-old Halima Cisse, a Malian woman who gave birth to nine babies in Morocco on May 4, 2021. While Cisse's story is true, the photos are all several years old and show neither her nor her babies.
Three of the photos were shared here in a single Facebook post published on May 7, 2021. The post has been shared more than 500 times. 
Screenshot of the misleading post, taken on May 10, 2021
Cisse, who hails from Mali, gave birth to nine babies in a Moroccan hospital on May 4, 2021, as AFP reported. A medical team of 10 doctors and 25 paramedics helped deliver the five girls and four boys.
The images were also shared here on Facebook and here on Twitter. The tweet includes an extra photo, again of babies inside an incubator. 
Screenshot of a false tweet claiming to show a Malian woman with her nine babies, taken on May 11, 2021
Three old photos
All three photos shared in the Facebook posts are old and depict neither Cisse nor her nonuplets.
A Google reverse image search reveals that the first image was taken in 2019 and shows Thelma Chiaka, who gave birth to three sets of twins on March 16 at the Woman's Hospital of Texas in the United States. The hospital tweeted about Chiaka and her babies. 
Did you know that the odds of having #sextuplets are estimated at one in 4.7 billion? We were honored to welcome Thelma Chiaka's four sons and two daughters early this morning! https://t.co/7RL7V3FOBk pic.twitter.com/x9QCEhpHiO

— TheWomansHospTX (@TheWomansHospTX) March 15, 2019
The second photo was used in an Al Jazeera article about seven babies born in Iraq in February 2019. 
Screenshot taken on May 11, 2021, of an article from 2019 about seven babies born in Iraq
The same image has also been used in other articles to illustrate other multiple births, including sextuplets who were born in Poland on May 20, 2019. 
Various news agencies have been credited for the image and while AFP Fact Check was unable to verify the origin of this second photo, it is clear that the babies pictured are not part of Cisse's nine newborns, since the image has been on the internet since 2019. 
The third image shows sextuplets born at a hospital in Mexico on July 5, 2005. The photo was taken by AFP photographer Alejandro Acosta.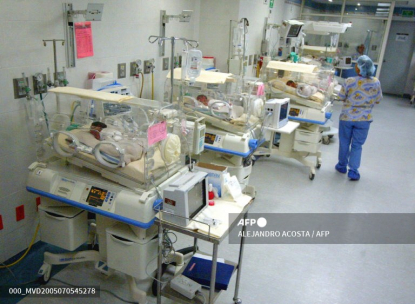 Image of sextuplets born in 2005 at Ginequito Hospital in Mexico used in false claims about Malian mom and her nine babies (Photo: Alejandro ACOSTA / AFP)
Genuine photo shared in a tweet 
The Twitter post features an additional photo showing an incubator occupied with newborns. This photo is legitimate: it was published in a press statement released by Mali's Ministry of Health and Social Development on May 4, 2021, when news of Cisse and her babies was announced. 
The incubator is identical to the one in this video filmed by AFP inside the Moroccan clinic where Cisse gave birth.
Professor Youssef Alaoui, a medical director at the clinic where the babies were born, told AFP that the nine babies were born prematurely and would stay in the intensive care unit for "two to three months" until they reached a mature weight. 
Rare birth
Initial ultrasound scans predicted that Cisse would give birth to septuplets. According to the Malian Health Ministry, she was transferred to Morocco on March 30, 2021, for specialised care.
According to the BBC, only two other nonuplet births have been recorded in the past: one in Australia in 1971 and the other in Malaysia in 1999, but none of the babies survived more than a few days.
The current record holder of "most children delivered at a single birth to survive" as recorded by the Guinness World Records is Nadya Suleman from the United States, who gave birth to eight babies in 2009.