These images show scalps after hair transplant surgery — not what happens when you share a wig with a friend
A post purporting to show the harmful side-effects of sharing wigs is gaining traction on Facebook. The images are real -- however, they show the scalps of two people undergoing hair transplants. 
Warning: Readers may find the images used in this post unpleasant, particularly those suffering from trypophobia.
The post, which we've archived here, includes two images showing two scalps with an unknown medical condition. The caption reads: "Ladies stop sharing wigs with your friends!!!"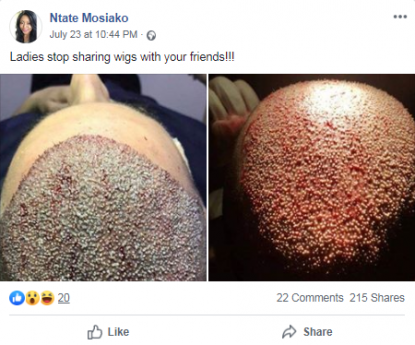 A screenshot taken on August 1, 2019 of the misleading Facebook post
Comments on the post showed that some readers believed that sharing wigs could indeed result in the painful-looking condition seen in the picture, while others noted that the heads looked like they belonged to men.
Some readers suggested the images looked like men undergoing hair transplants, and a reverse image search quickly found numerous results and similar images related to hair transplant surgeries. 
The two images used to show the effects of sharing wigs are from Istanbul-based transplant rooms: Fue Hair Transplant Istanbul and the clinic of Dr Hamid Ayadin, as seen on their social media pages.
A screenshot taken on August, 1 2019 of the image posted on Pinterest
The hair transplant industry and the trade in wigs are both growing around the world. 
Market Research Future, a US market analysis company, expects the global hair transplant market to reach $23.8 billion by 2023, up from $4.1 billion in 2016. Their research indicates that the market is going to grow in "multi folds" due to an increase of people suffering from hair loss. Turkey's hair transplant market is one of the major hubs in the global industry with over 300 clinics for hair transplants in Istanbul alone.
The global market for wigs and hair extensions, meanwhile, is estimated to reach revenues of more than $10 billion by 2023, growing at a compound annual growth rate of approximately nine percent during 2017-2023 according to research by Arizton.