Images show aircraft that crashed in Honduras in 2018 after carrying Americans on business trip
Four images have been shared hundreds of times in multiple Facebook posts in February 2021 alongside a claim they show an aircraft that crashed while carrying 20 missionaries, all of whom survived. The claim is misleading: the photos show a private jet that crashed in Honduras in 2018. Six Americans on board survived the crash, including two crew members, US media reported. None were reported to be missionaries.
A photo collage consisting of four photos was posted here on Facebook on February 23, 2021. It has been shared more than 110 times.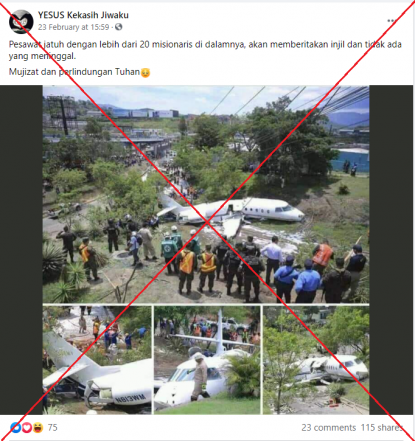 Screenshot of misleading post, taken on February 26, 2021
The post's Indonesian-language caption translates to English as: "The plane crashed carrying more than 20 missionaries who were going to preach the gospel and no one died.
"Miracles and protection of God".
The same photo collage was shared more than 320 times on Facebook here, here, here and here alongside a similar claim.
The claim, however, is misleading. 
A reverse image search on Yandex followed by keyword searches found the same four images posted here on the Facebook page of China's state-run Xinhua News Agency on May 23, 2018. 
The post reads: "A private jet from U.S. crashes at Honduran capital's airport and splits in half. All people on board survive, according to local media."
Below is a screenshot comparison of the photos in the misleading post (L) and Xinhua's photos (R):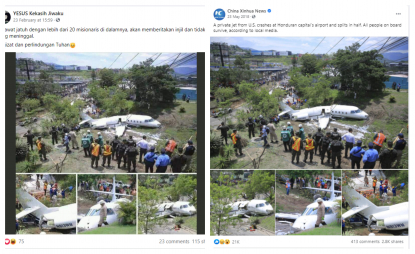 Screenshot comparison between photos in the misleading post (L) and Xinhua's pictures (R)
The Associated Press published a report on May 24, 2018, about the crash here. The headline reads: "Passengers of Honduras plane crash were from US pawn company".
The report's first two paragraphs read: "A Texas-based pawn shop company has confirmed that four of its executives were aboard a private jet that crashed off the end of the runway in Honduras' capital.
"Austin-based EZCORP says that the plane was carrying its four employees and two crew members. It says those aboard suffered mostly minor injuries, with one employee and one crew member suffering more serious injuries."
AFP published a video report about the crash on YouTube on May 23, 2018. It is headlined: "Plane accident in Honduras injures six Americans". It shows scenes that directly correspond with Xinhua's photos. 
The plane was carrying four passengers and two crew, according to US media. The four passengers on the flight were American pawn shop employees, the reports said. CNN and the New York Post reported on the crash on May 23, 2018.