This steam inhalation device cannot prevent or cure Covid-19 infection, health experts say
Several images of a steam inhalation device have been shared repeatedly in multiple Facebook posts alongside a claim that it could help prevent or cure Covid-19 infection. The claim is false: health experts said there is no evidence that inhaling steam can prevent or cure Covid-19, warning the purported treatment could be harmful. 
The images were shared in a Facebook post here on May 9, 2021. 
The post's Sinhala-language caption translates to English in part as: "A device produced to meet the need of the hour, using modern technology was opened for public use today.
"This has been installed near the Buddha shrine... If you visit the area during set times, you will be able to get good steam inhalation."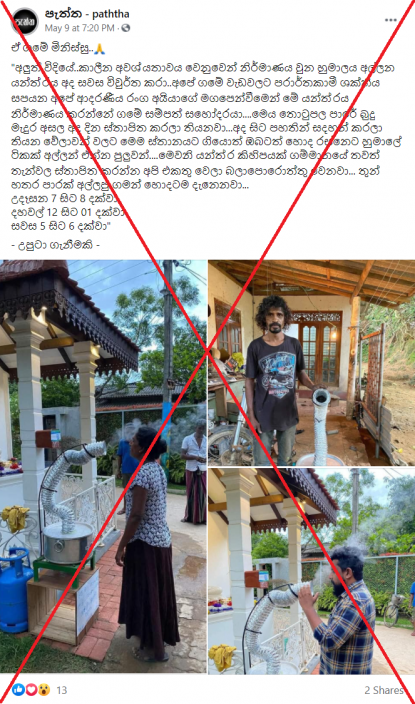 Screenshot of the Facebook post captured on May 17, 2021
The post suggests the device could be used to prevent or even cure Covid-19 infection. 
The phrase "need of the hour" refers to a surge in Covid-19 infections in Sri Lanka. As of May 25, 2021 more than 160,000 infections and over 1,200 Covid-19 related deaths have been recorded in Sri Lanka. 
The same images were shared here and here alongside a similar claim.
The claim is false: health experts say there is no scientific evidence that steam inhalation helps prevent or cure Covid-19.
AFP has previously debunked claims that steam inhalation can treat or cure people infected with Covid-19 here and here.
Dr. Ashan Pathirana, from Sri Lanka's health bureau, told AFP that the steam inhalation device pictured in the misleading posts may increase the risk of Covid-19 infection through cross-contamination.
"The device has been installed with good intentions, however, it is counterproductive as it poses an unnecessary risk to those using it," he said on May 13, 2021.
"Since it is open for the public and also encourages the gathering of a crowd, such a device actually increases risk of contamination."
"Moreover, there is no basis behind the belief that steam inhalation helps prevent Covid-19 infections".
The misleading claim has also been debunked by other Sri Lankan experts.
The claim was discussed in this online event hosted by the Ceylon College of Physicians on Covid-19 on May 08, 2021. 
At about the 33-minute mark, Dr. Ananda Wijewickrama from Sri Lanka's Infectious Diseases Hospital says steam inhalation cannot prevent or treat Covid-19 infection. 
"Steaming may bring a sense of relief for patients experiencing congestion but it will not prevent an infection," he says.
"We observe some people choose to inhale steam believing it will stop the infection but not wear a mask."
"So we request the public to stop chasing after misleading, unnecessary claims and follow the basic, tried and tested methods to protect themselves from this disease."
The WHO has compiled information here which debunks misleading claims about purported coronavirus "cures". As of May 24, 2021, there is no "cure" for the disease.
More than one billion Covid-19 vaccine doses have been administered worldwide in a bid to reduce the chances of infection, serious illness and death from the disease, AFP reported on April 25, 2021.