Inhaling steam will not treat or cure novel coronavirus infection
A video viewed more than 2.4 million times on Facebook urges people to inhale steam to "kill" the novel coronavirus. But experts say that doing so will not treat or cure the viral infection, and could in fact be harmful.
The video -- a more than 40-minute Facebook live from March 15, 2020 -- features a man whose page identifies him as a sound technician and songwriter. He urges people to boil water in a pot with sea salt and citrus peels, then inhale the steam from it for 15 to 20 minutes.
"I'm here today to tell y'all that I have a cure for the coronavirus," he says, before adding: "Well, I wouldn't say a cure, but I, yeah, I have something that kills the coronavirus."
"I'm giving a coronavirus treatment today. I'm helping as many people as I can help. I want y'all to share this, I want y'all to make this go viral -- I'm trying to help some people live," the speaker later says.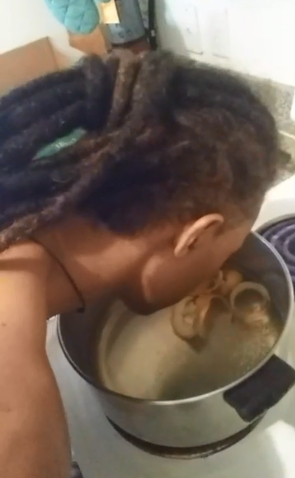 A screenshot of a Facebook live video taken on March 26, 2020
The video is accompanied by a disclaimer: "THIS IS NOT MEDICAL ADVICE OR A PRESCRIPTION BUT SIMPLY A PERSONAL CLEANSE THAT I USED BASE ON MY CONCLUSION OF THE STUDIES THAT WERE PUBLISHED."
But the video has inspired other people to believe they can cure the disease via this method. A clip viewed tens of thousands of times, archived here and here, shows a woman inhaling steam from a pot that contains orange peels, onion, garlic and iodine salt.
"She's doing the steaming method for the coronavirus, and it is actually working," a person says in the video, adding: "So this is the cure for the coronavirus."
The person says the treatment is based on another video playing on a phone -- the Facebook live mentioned above.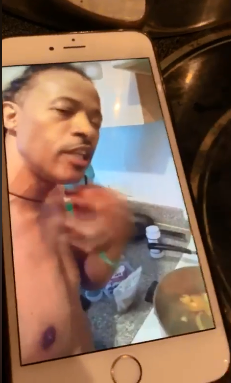 A screenshot of a video taken on March 26, 2020 shows a Facebook live video playing on a phone
But inhaling steam will not cure a novel coronavirus infection.
"At the current time, the only way to 'kill' a virus is through antimicrobial cleaning solutions, which should NEVER be inhaled or introduced into the body in any way," Dr. Jason McKnight, Assistant Clinical Professor in the Department of Primary Care and Population Health at Texas A&M University, told AFP by email.
"In general, people may find that inhaling steam during any sort of respiratory illness helps with their symptoms, such as cough, nasal congestion and chest congestion. However, this is only symptomatic relief and it is not a treatment for any viral infection," he said.
And "you have the potential to cause real harm to yourself through burns from the heated water vapor to your eyes, face and airways, which if severe enough could cause serious and long-term complications," McKnight said.
Dr. Benjamin Neuman, an expert in coronaviruses who chairs the Biological Sciences department at Texas A&M University-Texarkana, agreed.
"The lungs are delicate, and steam is very hot -- not a good mix. Hot steam can and does damage the lungs, and the idea that it could fight a virus that also damages the lungs is just really bad advice," he said by email.
And Dr. Karine Le Roch -- a professor of cell biology at the University of California, Riverside -- said: "I really don't think that inhaling steam will treat or cure the infection."
"There is no miracle cure," she said by email. "Researchers are doing their best to find something quickly but it will take time."
Steam inhalation does not appear on the World Health Organization's page offering advice to the public about the virus, nor on the US Centers for Disease Control and Prevention's page on how to protect against the virus, or its page about caring for yourself if you are sick.
The speaker in the Facebook live video also says that heat kills the virus, and that "I'll take a blow dryer and put it in my nose" to target it -- a method that AFP Fact Check previously found will not treat or cure the virus.
"It's really SARS -- they're not telling y'all," the man says at one point. Text accompanying the video refers to the temperature at which heat killed SARS-CoV, but that is another coronavirus that was first reported in 2003.
The novel coronavirus originated in China in late 2019 but it has spread globally, killing 21,000 people, wreaking economic havoc from Asia to Europe and the United States in a public health crisis that governments are struggling to halt.
AFP Fact Check has debunked more than 180 examples of false or misleading information about the novel coronavirus. A complete list of our fact checks on the topic in English can be found here.