Wet wipes not recommended for use as DIY coronavirus protection masks
A post shared more than 165,000 times on Facebook includes a video of a woman turning a baby wipe into a face mask to "protect against coronavirus." The company that sells the wipes says they should not be used in this way, and health experts also recommend caution.
"The most practical method of making masks from wet wipes to protect against coronavirus, #coronavirus # coronavirus #mask," the post on a Facebook page that describes itself as a space for "sharing ideas for hobby purposes" says.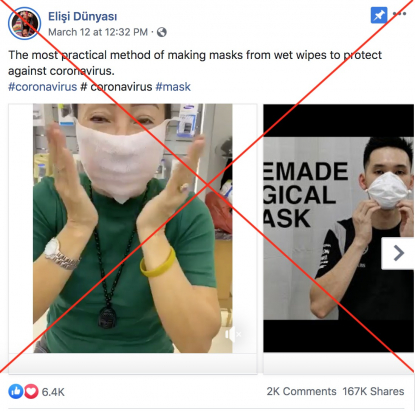 Screenshot of a Facebook post taken on March 23, 2020
The video embedded in the post shows how to cut a wet wipe and turn it into a face mask. The woman, who speaks Indonesian, then secures the wipe tightly on her face over her mouth and nose. 
"If you are not sure, make two layers. If masks are not available, just use this one. Do not worry," she says, according to a translation of the video by AFP's team in Jakarta. 
AFP identified the product used in the clip as a baby wet wipe from PZ Cussons baby care line. 
"Cussons Baby Wipes are designed solely for the cleansing of skin and not to be used as a face mask. All of our products must only be used as directed on the packaging. We recommend consumers follow World Health Organization (WHO) and national government guidelines in order to prevent infection," the company said in a statement sent by email to AFP. 
"The most important thing is 'don't put yourself in dangerous situations,'" warns KK Cheng, Director of the Institute of Applied Health Research at the University of Birmingham in England. The professor emphasized the importance of "social distancing," "staying at home," and "washing your hands" to protect against the novel coronavirus.
"I'm aware of no evidence for or against use. Certainly not implausible that it could cause harm through risk compensation (people feel protected so are less adherent to social distancing measures)," warned Ben Cooper, professor of epidemiology, based at the Mahidol-Oxford Tropical Medicine Research Unit in Bangkok, Thailand. 
Cooper recommended following WHO's guidelines on when and how to use a mask to protect against the virus.  
Graphic detailing when to use a face mask (World Health Organization)
The US Centers for Disease Control and Prevention (CDC) says people who are not sick do not need to wear a mask unless they're taking care of someone who is ill.
"Facemasks may be in short supply and they should be saved for caregivers," the CDC says. 
In settings where facemasks are not available, health care professionals might use alternatives such as a bandana or a scarf "for care of patients with COVID-19 as a last resort," the CDC recommends.
"I can't think of many situations where people are so desperate to turn wet wipes into face masks," Cheng says. 
AFP Fact Check is debunking coronavirus misinformation as it emerges along with new cases across the world. You can find the complete list of our fact checks on the topic in English here.