Social media posts share misleading claim that Australia's Victoria state premier has a net worth of $91 million
Multiple Facebook posts have shared a claim that Daniel Andrews, the premier of the Australian state of Victoria, has a net worth of $91 million. This claim is misleading; there is no evidence of such a figure being disclosed; the register of financial interests of Victorian politicians does not support the claim.
The claim was published here on Facebook on October 11, 2020.
The text in the image reads: "Daniel Andrews Net Worth / Daniel Andrews estimated Net Worth, Salary, Income, Cars, Lifestyles & many more details have been updated below. Let's check, How Rich is Daniel Andrews in 2019-2020?
"According to Wikipedia, Forbes, IMDb & Various Online resources, famous Politician Daniel Andrews's net worth is $91 Million at the age of 47 years old. He earned the money being a professional Politician. He is from Australia.
"Daniel Andrews's Net Worth: $91 Million"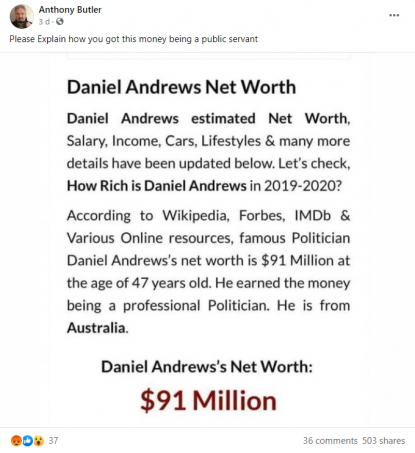 A screenshot of the misleading Facebook post as of October 15, 2020.
The post's caption reads: "Please Explain how you got this money being a public servant"
An identical claim was also shared here on Facebook. 
However, the claim is misleading. 
The Victorian Independent Remuneration Tribunal sets the salary of Members of Parliament(MPs) in the state. On July 1, 2020, the salary for the premier was set at $441,439, as per page 130 of this document.
A screenshot of the Victorian Independent Remuneration Tribunal's determination on MPs pay, as of October 16, 2020.
Outside of their parliamentary salary, Victorian law requires MPs to submit information regarding their financial and other interests to a register so it can be viewed publicly. 
MPs are required to submit the following information, above certain thresholds detailed in the 1978 Members of Parliament (Standards) Act: 
1. income
2. beneficial interests in corporations or partnerships and any office the member holds in those businesses
3. any land the member owns
4. personal debts
5. beneficial interests in trusts
6. estates, where the member is appointed as executor and holds a beneficial interest
7. membership of any political party, trade or professional organisation
8. gifts, including the name and address of the person who gave it to the member
9. travel outside Victoria that was funded by another person (other than by the State or the member's family)
10. other interests which could appear to cause a conflict with their public duty.
The most recent Register of Interests can be found here on the Victorian Parliament's website, which includes information dated July 28, 2020. 
Andrews' interests are listed on page 26 of the document. He lists no additional expected income until July 2, 2021, and no other beneficial interests, as seen in the screenshots below:
Andrews also lists a primary residence in Mulgrave, and no other residence or land, as per the screenshot below:
Andrews also states that he holds office as an Honorary Chairman of an amateur golf tournament, holds no beneficial interest in a trust and has no personal debts. 
At no point in the declaration does he list any interests worth $91 million.
A separate Google search of the text in the image led AFP to this website called Popular Bio, which contains the claim regarding Andrews' net worth.
The site claims Andrews' net worth was sourced from "Wikipedia, Forbes, iMDB and Various Online resources", but AFP found no evidence to support the claim on these websites.
His Wikipedia page does not mention his net worth and a keyword search found there is no mention of it on the Forbes website.