Small percentage of vaccinated people will get Covid-19
Social media posts seek to raise doubts about vaccines by saying those who believe immunized people are at risk from others who have not received shots do not think they work. But while studies have found that vaccines protect against Covid-19, US health authorities say that a small percentage of recipients will still contract the potentially deadly disease.
"If you believe an UNVACCINATED person is a risk to a VACCINATED person, then you don't really believe in vaccines, do you?" says an April 27, 2021 Facebook post on musician Ted Nugent's account.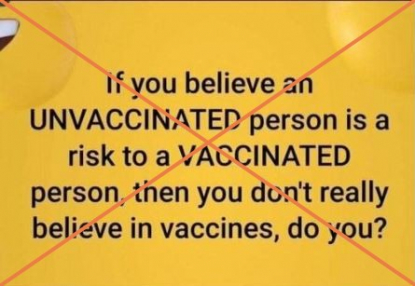 Screenshot of a Facebook post taken April 29, 2021
The claim also appears on Facebook here and on Instagram here.
The US vaccination drive has brought at least one dose to more than 40 percent of the population and the rate of new Covid-19 cases has declined, but misinformation about the shots is flourishing online.
The shots most widely used in the United States against Covid-19 showed an efficacy of around 95 percent in human trials, and real-world testing on health care and other frontline workers confirmed the vaccines using mRNA technology are highly beneficial.
The US Food and Drug Administration published a briefing in December 2020 which also reported that "the efficacy data suggest highly effective protection against Covid-19 in a broad population of individuals across demographic characteristics."
More recently, an observational study conducted in Israel echoed these findings, showing as cumulative vaccination coverage increased, the average of incident cases of Covid-19 declined across all age groups.
"All Covid-19 vaccines available in the United States are effective at preventing Covid-19," the US Centers for Disease Control and Prevention (CDC) says.
But it also says that "a small percentage of people who are fully vaccinated will still develop Covid-19 if they are exposed to the virus that causes it."
Just as it is possible to get sick with the flu even if you've been vaccinated, Covid-19 vaccinations are not guaranteed to protect everyone who is vaccinated because no vaccine is 100 percent effective.
Experts continue to study the rate and reasons for these "breakthrough cases."
As of April 26, 2021, 95 million people in the US were fully vaccinated and the CDC said just 9,245 "breakthrough" infections were reported.
Vaccination greatly reduces the risks of developing a serious or fatal form of the disease.
On April 27, 2021 the CDC said fully vaccinated people can go mask-free outdoors except in crowded settings, though they should still wear a face covering in indoor public settings. President Joe Biden presented the changes as a move back towards normality.
EDIT: This story was updated on May 12, 2021 to add FDA and Israeli data.