Rwandan government rejects old claim that French no longer an official language
A Facebook post shared hundreds of times claims that Rwanda has dropped French as an official language and replaced it with Swahili. This is an old claim that was previously debunked by AFP Fact Check and has resurfaced. The Rwandan government confirmed that French remains one of the country's four official languages.
The claim was posted here on a public Facebook group called Africa for Africans on September 12, 2020. According to the post, "Rwanda removed French as official language & replaced it with Swahili".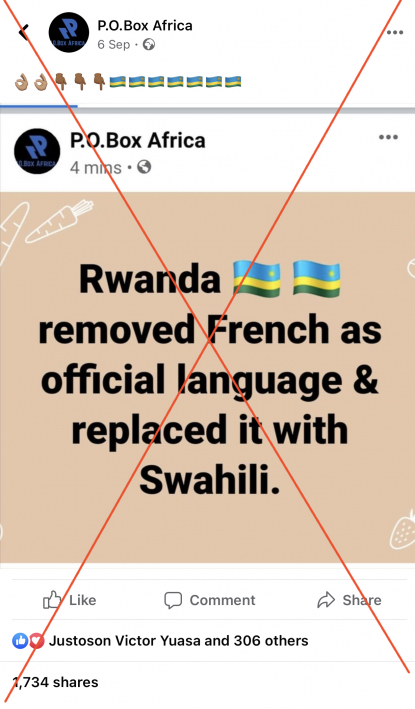 A screenshot of the misleading Facebook post taken on September 21, 2020
The same post was shared here and here in recent weeks. 
Similar rumours also surfaced online in 2019, as we reported at the time.
Rwanda has four official languages: Kinyarwanda, English, French and Swahili.
According to the Constitution of Rwanda of 2003, revised in 2015, the national language is Kinyarwanda -- spoken primarily or exclusively by the vast majority of Rwandans -- and the official languages are Kinyarwanda, English, and French.
In 2017, Swahili was added as an official language as part of commitments with the East African Community, an organisation whose three founders -- Kenya, Uganda and Tanzania -- use Swahili as their official language, alongside English.    
Government denial
Contacted by AFP Fact Check on October 6, 2020, Rwanda's government spokesperson said French was still an official language, along with Kinyarwanda, English and Swahili. 
We also found no reports in reliable news media that the country had dropped French.
French, the language of former colonial power Belgium, has been declining in use in Rwanda since the 1994 genocide, when a new political elite, dominated by anglophone Tutsi refugees, took charge.
President Paul Kagame, himself Ugandan-educated, introduced English in 2003 as the third official language listed in the constitution, alongside Kinyarwanda and French.
The country switched from French to English as a language of instruction in schools in 2008. 
But, two years ago Rwanda's top diplomat told AFP that rejecting French was never the plan.
"This is a misinterpretation, it was necessary for Rwanda to try to be part of this club of English-speaking countries," former foreign minister Louise Mushikiwabo said in an interview in 2018.
"The interpretation that suggests that Rwanda turned to English against French may have been the result of relations between France and Rwanda," she said. "I think there was confusion between the relations of Rwanda and France, and the relations of Rwanda with the Francophonie."
In 2015, Rwanda counted some 700,000 French-speakers -- about six percent of the population -- according to the International Organisation of La Francophonie (OIF).