This ranch does not belong to Mark Zuckerberg
An image showing Facebook founder Mark Zuckerberg standing next to a herd of black cattle has been shared multiple times on social media alongside a caption that Zuckerberg is "enjoying at his ranch". However, the claim that ranch belongs to him is false; Zuckerberg originally posted the photo on Facebook in 2017 during a visit to a ranch belonging to a family in South Dakota.
"Mark Zuckerberg enjoying at his Ranch with money he makes as you talk idiotic rubbish on his facebook (sic)," reads one of the false posts published by Nigerian journalist Timawus Mathias. 
The Facebook post has been shared more than 200 times since publication on April 18, 2021.
Screenshot taken on April 27, 2021, showing the false Facebook post
Using social media monitoring tool, AFP Fact Check found one of the earliest versions of the claim on a Facebook page called "Fulani News Media". 
The page focuses on "Fulanis and West Africa" and has racked up more than 150,000 followers since it was created on April 16, 2018.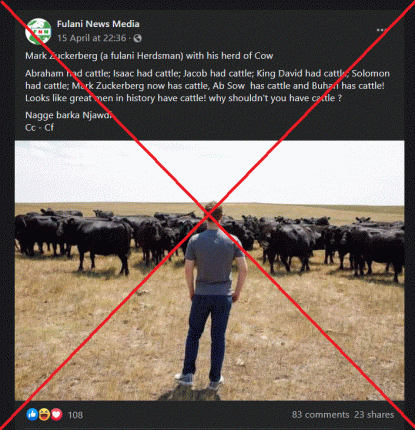 Screenshot taken on April 26, 2021, showing the false Facebook post
Fulani is an ethnic group in northern Nigeria known for herding cattle across the country. The Fulani pastoralists are frequently accused of murders and kidnappings in Nigeria's south where the livestock graze during the dry season. These tensions prompted regulations against open grazing.
"Abraham had cattle; Isaac had cattle; Jacob had cattle; King David had cattle; Solomon had cattle; Mark Zuckerberg now has cattle, Ab Sow has cattle and Buhari has cattle! Looks like great men in history have cattle! why shouldn't you have cattle ? (sic)" reads the second part of the post.
Similar versions of the post have appeared on Twitter where it was shared by Nigerian Senate President's media aide Abu Sidiq.
While the image indeed shows Zuckerberg, there is no evidence the ranch or the cattle belong to the Facebook founder.
A Google reverse image search led to the source of the image on Zuckerberg's Facebook timeline in a post from July 12, 2017. In the caption, Zuckerberg writes about his visit to Norman Ranch in South Dakota, United States.
The post from July 27, 2017, was published with three images, including the photo now being shared in the false Facebook posts.
"I had lunch today with the Norman family on their 2,500 acre cattle ranch in South Dakota," reads the caption on the post. Zuckerberg's visit to South Dakota was prompted by his interest in understanding the sources of food, including meat.
South Dakota is a state in the United States known for its high cattle population.
"So for that year I set a goal to only eat meat that I killed and helped butcher myself," Zuckerberg wrote. "A lot of our cattle starts in South Dakota where there are about three times as many cows as people."