Indian social media posts share fake Covid-19 plasma donor lists
Social media posts circulating in India have shared a purported list of blood and plasma donors as the country's healthcare system struggled to cope with a second wave of Covid-19 cases. The posts urged "anyone requiring plasma for Covid treatment" to contact the doctors on the list. The contacts, however, are not valid phone numbers and do not relate to plasma donation in India. 
The misleading posts were shared widely on Facebook, for example here and here, in mid-April as India's underfunded healthcare system was stretched to the limit by a new wave of coronavirus infections.

The country faces major shortages of oxygen, medicines and hospital beds, AFP reported.
US authorities approved plasma therapy for Covid-19 treatment in August 2020. The plasma is believed to contain antibodies that can help fight off the disease faster, according to the World Health Organization.
Identical posts claiming to provide a list of plasma and blood donors were shared here, here, here, here, here and here on Facebook; and here and here on Twitter.
But the claims are false. 
The purported plasma donor list has actually circulated online since at least 2015, a keyword search on Facebook found.
This post shared on December 5, 2015 contains an almost identical list to one that recirculated in 2021.
AFP attempted to call some of the numbers on the purported list but almost all of them were out of service.
One name on the list, V. Mohan, answered AFP's call and said that the list was "old" and did not relate to Covid-19 or plasma donations.
Speaking from the south Indian city of Chennai, he told AFP: "This is an old list, I donated blood back in 2015. It's that same blood donor list from south India, nothing to do with plasma donation for Covid-19."
Below is a screenshot comparison of the misleading post (L) and 2015 Facebook post (R)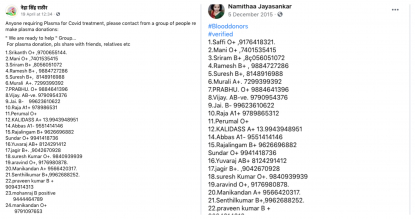 AFP found a similar list was shared on Facebook in 2016 and 2017.
Another Facebook post falsely purports to share the number of a volunteer doctor group offering free plasma in Delhi.
The text reads: "Please confirm first Anyone needing plasma in Delhi- PLEASE GIVE THEM THIS NO. They arrange it immediately free of cost via Team Step ONe - Dr Monica Bhagat 9810026546 9810039376."
Neither number was in service as of April 26, 2021.
Project Step One, a volunteer group of Indian doctors, said the message was "fake" in a tweet on its official Twitter account here on April 15, 2021.
A fake message is making rounds in all social media platforms in the name of Team StepOne. Please do not make calls to these numbers. None of the numbers are associated with us nor can they arrange plasma donors. Our helpline number is 9745697456 for any COVID19 related issues. pic.twitter.com/DkkoybQRPO

— StepOne (@Projectstepone) April 15, 2021