The press pass in this doctored photo is from Apple Daily's Taiwan bureau, not Hong Kong
An image purporting to show a handwritten pro-police note on top of a press pass from Hong Kong-based newspaper Apple Daily has been shared thousands of times on Facebook alongside a lengthy text caption. The caption is supposedly a "letter" from an Apple Daily reporter questioning the paper's impartiality during recent protests in the city. But the image has been doctored to include the note and the pass is from Apple Daily's Taiwan bureau – not Hong Kong.
The image was posted to Facebook here on July 24, 2019, alongside Chinese-language text purporting to be a "letter from an Apple Daily reporter to Hong Kongers".
The now-deleted post was shared more than 2,000 times in one day.
Apple Daily is a Hong Kong newspaper which also has operations in Taiwan and North America.
Hong Kong has been swept by two months of protests, triggered by a controversial bill which would have allowed extraditions to mainland China. Here is a recent AFP article about the demonstrations.
Below is a screenshot of the misleading post:
The handwritten note in pink, partially covering the press pass, translates as: "Support police. Poisonous, despicable Apple Daily. July 24, 2019."
Translated to English, the post's lengthy caption says in part:
"All reports aimed to spark fears and destroy Hong Kong. I am a reporter for Apple Daily, and I believe news reporting should be balanced, objective, fact-checked, including information and perspectives from all sides.
"However, some reports from this newspaper have been written based on groundless arguments in order to spark fears in society. Apple Daily knows how to play the game. It 'creates' discussions out of nowhere and seeks gratification in chaos.
"Us reporters have been asked to stand in front of police officers to give the impression that there was a standoff between journalists and police. The company does not care about our safety at all! 
"I overheard in the newsroom: 'This kind of angle and headline are what the Americans like. Otherwise we will run out of money'. From an Apple Daily reporter who doesn't want to witness the downfall of Hong Kong."
The same image and claim have been shared here and here on Facebook pages with tens of thousands of followers, and also in local Hong Kong Facebook groups, such as here and here.
A reverse image search on Google led to a very similar photo published in this May 15, 2019, post on Taiwanese forum Disp BBS. Below is a screenshot of that post: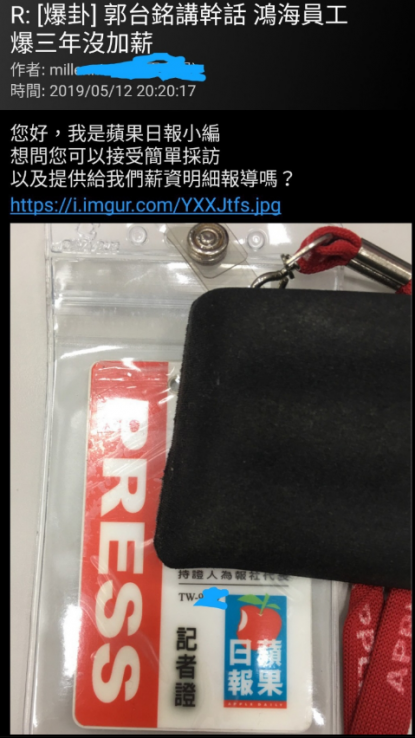 The post translates to English as: "I received an email from an Apple Daily reporter three days ago asking whether salaries at Hon Hai Precision Industry are as high as founder Terry Gou claimed."
Hoi Hai Precision Industry – better known as Foxconn – is a multinational electronics firm headquartered in New Taipei and founded by Taiwanese businessman Terry Gou.
Below is a screenshot comparison of the image in the misleading post (L) and the one published on the forum (R):
In the forum image, a piece of black material is seen in the same place as the note in the photo in the misleading post.
The letters TW – short for Taiwan – can be seen in the forum image, with a blue mark over the adjacent information; the same area is covered by a larger yellow mark in the image in the misleading post.
Apple Daily Hong Kong released this statement on July 25, 2019:
"Apple Daily Hong Kong is aware of the 'letter' allegedly written by an Apple Daily reporter and posted to Facebook alongside a photo of an apparent Apple Daily press pass.
"After further verification, we can confirm and would like to clarify that the pass does not belong to the Hong Kong office, but our Taiwan bureau. The photograph has been stolen and doctored. Apple Daily will pursue action against the counterfeit."
The report also quoted Apple Daily Taiwan's editorial team as saying the design of the press pass is identical to theirs, and that the case has been passed onto its legal department.