Police dismissed the claims as a hoax, which were based on an old story
Multiple articles widely shared on Facebook claim that 59 church members died after drinking household disinfectant which their pastor said would prevent coronavirus infections. The claims, although based on an old story, are false -- South African police denied any current investigations on their part.
The articles have been shared more than 10,000 times in recent weeks, including here, here and here.
They claim followers of a prophet drank Dettol to protect themselves from the novel coronavirus and other diseases, leading to the death of 59 people.
A screenshot taken on March 31, 2020 of the misleading Facebook post
The claims are accompanied by an image of a man pouring what appears to be Dettol into a woman's mouth.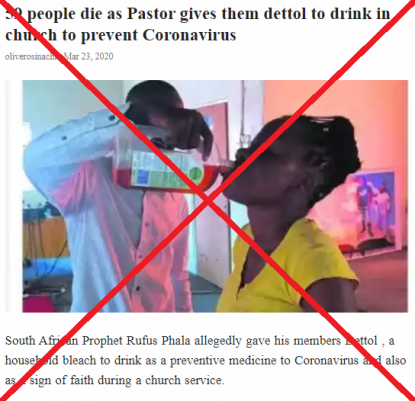 A screenshot taken on March 30, 2020 of the recent misleading article
A reverse image search reveals the picture is genuine but is linked to news reports in South Africa (see here and here) from December 2016, three years before the new coronavirus emerged.
Furthermore, none of the publications make any mention of fatalities.
South African newspaper Daily Sun identified the man as Rufus Phala, a "prophet" who told his congregation that drinking the antiseptic liquid would heal them.
Screenshots taken on March 31, 2020 of articles in 2016 about the pastor giving Dettol to his congregation
It quotes Phala saying at the time: "I know Dettol is harmful, but God instructed me to use it. I was the first one to drink it." The hoax articles repeat these words.
Phala's actions were criticised as an "unnatural habit" by the health department, which called on church leaders to investigate. 
Dettol South Africa also responded at the time, advising the product was for external use only, warning that ingestion could be dangerous.
"We have been in contact with Prophet Rufus Phala and have asked him to stop this practice," the statement read.
AFP was unable to verify if the bottle Phala gave to his congregants genuinely contained Dettol.
Responding to AFP, police spokesman Brigadier Vishnu Naidoo dismissed the claims as false and denied any investigations into the deaths of 59 people linked to the consumption of Dettol.