This photo was taken on Icaria Island in Greece, not Venezuela
A photo has been shared hundreds of times on multiple posts on Facebook and Twitter which claim it shows "Catatumbo lightning", an atmospheric phenomenon that occurs in Venezuela. The claim is false. The photo was actually taken in Greece; the photographer who took the image has said it is "a sum of 70 consequent lightning photos".
The image was published on December 4, 2020, here by a Facebook page with more than two million followers. The post has been shared more than 250 times.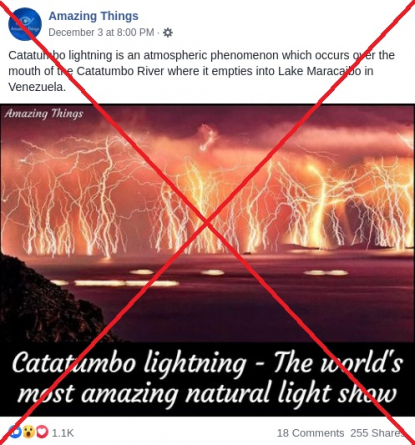 Screenshot of the misleading post, taken on December 22, 2020
The post's caption reads: "Catatumbo lightning is an atmospheric phenomenon which occurs over the mouth of the Catatumbo river where it empties into Lake Maracaibo in Venezuela."
Catatumbo lightning, named for the river that enters Lake Maracaibo in Venezuela, refers to lightning that strikes the lake area for up to nine hours every day, 300 days a year. NASA has declared it the world's lightning capital.
The image was also shared around 470 times after it was posted on Facebook here, and on Twitter here and here.
The claim is misleading.
A Google reverse image search found the photo had been published here on January 22, 2013, on a photography blog website, Night Sky Photography. It belongs to UK-based photographer Chris Kotsiopoulos. 
The blog post is titled: "Photograph lightning. A practical guide for capturing smashing lightning photos."
The blog post's first paragraph reads: "Hello there! In this post I will share with you everything I know about capturing with a Digital SLR camera one of the most impressive phenomena of Mother Nature. Lightning! I typically stack many photos to achieve an image with many lightning in one frame. I will explain this in detail. I took my favourite lightning photo at Ikaria island, Greece. It is a sum of 70 consequent lightning photos! It was published at National Geographic 2012 April' s issue."
Icaria, or Ikaria, is a Greek island in the Aegean Sea.
Below is a screenshot comparison of the photo in the misleading post (L) and the genuine photo (R):
Screenshot comparison of the photo in the misleading post (L) and the genuine photo (R)