Photo does not show Tanzania's deputy leader visiting president in hospital before he died
Facebook posts claim to show Tanzanian's vice president Samia Suluhu Hassan visiting late president John Magufuli in hospital before the announcement of his death on March 17, 2021. But this is false: the picture shows Hassan and opposition leader Tundu Lissu four years ago.
"President John Pombe Magufuli and his Vice President Samia Suluhu in hospital before his last breath," reads a Facebook post with dozens of shares.
The image shows Hassan standing next to a bedridden male hospital patient who has his face turned away from the camera.
A screenshot of the false Facebook post, taken on March 18, 2021
Similar claims were shared here, here and here.
The claim was posted hours after Hassan announced that Magufuli passed away on March 17, 2021.
The 61-year-old had been out of the public eye for a fortnight prior to his death, sparking a flurry of rumours about his health including that he had contracted Covid-19. The Tanzanian government had dismissed the reports as baseless.
Hassan announced that Magufuli had died from a "heart condition", also confirming that he had been in and out of hospital.
But the image purported to show Magufuli in hospital is old and depicts a different person altogether.
A reverse image search on Google revealed that the picture dates back to 2017 and shows Tanzanian opposition leader Tundu Lissu in a Nairobi hospital ward where he was admitted after gunmen shot and wounded him outside his home in the capital Dodoma.
This news report includes this video of Hassan visiting Lissu, an outspoken government critic.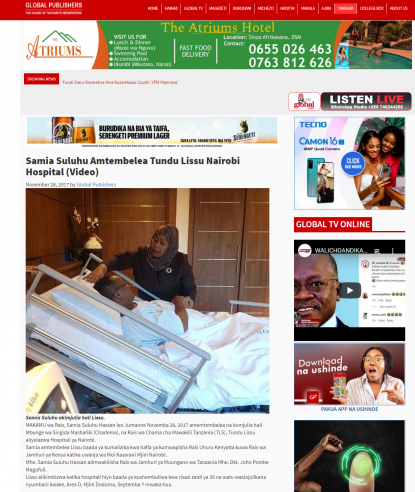 A screenshot of the 2017 news report showing vice president Samia Suluhu visitingTindu Lissu in hospital, taken on March 18, 2021
Before Magufuli'ss death was officially announced, videos circulated online purporting to show him in good health and conducting official business. AFP Fact Check debunked the claims here.