Photo of destroyed Libyan airport terminal used to portray Ethiopia clashes
As Ethiopian forces made inroads into the restive Tigray region last month, a photo of a building in ruins circulated online alongside claims it showed the remains of Aksum airport, torn down by retreating soldiers of the Tigray People's Liberation Front (TPLF). While the TPLF indeed ripped up parts of the airport's runway, this photo was actually taken in Libya in 2014.
Three images were posted on Facebook on November 22, 2020, shortly after Ethiopia's army claimed to have captured the city of Aksum in the northern highlands from the Tigray People's Liberation Front (TPLF).
Two of the pictures are identical and show the damaged interior of a large building. A third shows Aksum airport undamaged months before the conflict in Tigray began in early November 2020.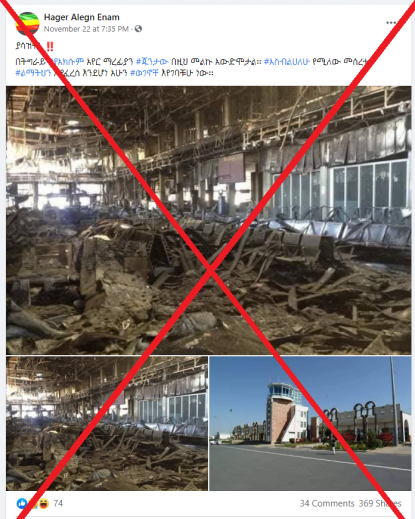 Screenshot of misleading Facebook claim, taken on November 26, 2020
Written in Amharic, part of the post's caption translates into English as: "Sad. In Tigray, this is how Junta destroyed the airport of Aksum". 
Tigray's leader Debretsion Gebremichael denied his soldiers had sabotaged their own airport as they beat a retreat from advancing Ethiopian forces last month.
His denial followed a report on November 23, 2020 by state-affiliated Fana Broadcasting that "TPLF extremists ruined infrastructures, including Aksum Airport". 
Aksum airport aside, Ethiopian Prime Minister Abiy Ahmed accused Tigrayan forces of destroying the city's key infrastructure, including bridges, schools, medical centres and roads. 
As proof, Ethiopian media broadcast footage showing the badly damaged runway at Aksum airport. 
Screenshots taken on November 26, 2020, of footage from Aksum airport, as broadcast by Ethiopian media
While the images of Aksum's damaged runway are genuine and a result of the conflict in Tigray, those of a damaged building posted on Facebook show an airport terminal in Tripoli that was destroyed during clashes between rival Libyan militias in 2014. 
What the images show
AFP Fact Check ran a reverse image search and found that the duplicated image in the Facebook post was used in an article published by Public Radio International (PRI) -- an American radio station that focuses on international news -- in 2014. 
Screenshot from PRI website, taken on November 27, 2020
The article describes how the airport was damaged by two rival militias from the western Libyan cities of Misrata and Zintan. The two armed groups once worked together to help defeat the forces of former leader Muammar Gaddafi.
Contacted by AFP Fact Check, the article's author Marine Olisevi confirmed she also took the picture in Tripoli's airport back in 2014. Olivesi, who traveled to Libya on a reporting assignment for PRI, and covered the region from 2011 to 2015, sent us a link to a YouTube video that shows the same destroyed terminal used in the misleading Facebook post. 
French fact-checking organisation Les Observateurs de France 24 came to the same conclusion in their debunk here.
The last of the three images shared on Facebook shows Aksum's airport terminal. However, another reverse image search revealed it was also shared on Facebook on March 18, 2020, meaning the picture predates the conflict by months.
Ethiopia conflict
Relations between the TPLF in Ethiopia's north and the national government have been deteriorating since Prime Minister Abiy Ahmed came to power in 2018, with regional opposition leaders accusing his administration of discrimination.
More than 44,000 refugees have crossed into Sudan since fighting broke out in Tigray on November 4, 2020, according to the UN refugee agency.
The TPLF dominated Ethiopian politics for nearly three decades and fought a brutal 1998-2000 border war with Eritrea that left tens of thousands dead. Abiy came to power in 2018 and won the Nobel Peace Prize the next year in large part for his efforts to initiate a rapprochement with Eritrea.
After nearly a month of fighting, Ethiopia claimed to have captured Tigray's capital Mekele on November 28, 2020. 
"I am pleased to share that we have completed and ceased the military operations in the #Tigray region," Abiy said in a Twitter post. "Our focus now will be on rebuilding the region and providing humanitarian assistance while Federal Police apprehend the TPLF clique." 
Mekelle under command of the National Defense Forces pic.twitter.com/rj8GbK3ii8

— Abiy Ahmed Ali ?? (@AbiyAhmedAli) November 28, 2020
Several hours after Abiy declared that military operations in the region were "completed", Eritrea's capital Asmara was hit by rockets fired from Tigray.
The US embassy in Asmara announced on November 29, 2020, that six explosions were heard in the Eritrean capital.
It marks the third time Asmara was hit during the three-week-old conflict.