This photo actually shows a bank employee in India
An image of a woman working at a computer while a young child sleeps on the floor behind her has circulated in Facebook posts claiming it shows a Sri Lankan government official. Social media users have praised the woman for flying in the face of stereotypes about unproductive public sector workers. The claim is false; the picture actually shows a bank employee from Pune, India, who shared it online to highlight the plight of working mothers.
The image was shared in this Facebook post published on August 27, 2020. It has been shared more than 4,200 times. 
"There are photos like this too, not just of those where they are asleep," the Sinhala-language text superimposed on the image reads.
The text is a reference to jokes about Sri Lankan public sector workers falling asleep on the job, a play on stereotypes about their supposed lack of productivity.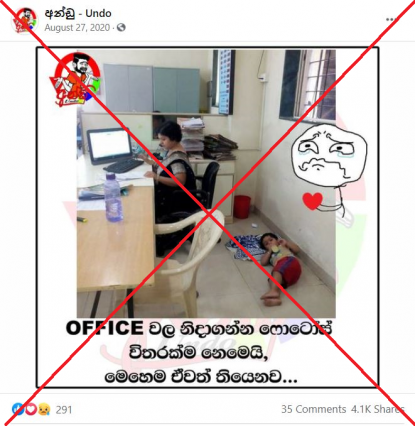 Screenshot of the Facebook post captured on April 21, 2021
The same image has been shared in multiple Facebook posts as seen here, here and here. 
Facebook users appear to have been misled by the posts. "A person much needed for this country...may they be healthy", one person commented.
"There are also a handful of public sector workers who make sacrifices like this," another wrote.
However, the posts are misleading; the image shows a bank employee from Pune, India, who posted the photo on Facebook account to highlight the plight of working mothers. 
A reverse image search on Google led to this article published by local newspaper The Indian Express on August 21, 2016 titled 'It's not a baby, it's my heart on the floor: Pune working mom's Facebook post goes viral' which features the identical image as seen below:
According to the article, the woman in the picture is Swati Chitalkar and she posted the photo of herself working while caring for her sick son. 
"That is exactly what happened to this Pune mom, Swati Chitalkar, whose kid was unwell with fever. Though she would have probably preferred to care for her child at home, but there were pressing matters at work and she just had to go," the article reads.
In the Facebook post, which was shared more than 28,000 times, Chitalkar said she posted the picture as a message to "ministers who sleeps in assembly".
"Its not a baby on a floor, its my heart on the floor. He was fully fevered not ready to stay with any body. As half day is over I couldn't take leave in between and a urgent release of loan was there. but I could manage to mind my both the duties. Just want to convey the message to ministers who sleeps in assembly".
Images of Indian politicians napping during a meeting at the legislative assembly in 2016 went viral on Facebook, triggering a series of memes. 
The image was published in multiple Indian media outlets as the photograph went viral as seen here and here. 
Below is a screenshot comparison of the image in the misleading posts (L) and the image in Indian media (R)
Screenshot comparison of the image in the misleading posts (L) and the image in Indian media (R)