'Oldest' political trick returns as gas prices become a front in US misinformation battle
Lindsay Battle says she knows "the truth" about why US gas prices in her area rose 90 cents a gallon in just over two months. "It's because President Biden shut down the pipeline and because of all of his other policies... that make us reliant once again in the Middle East for oil," she said.
This is inaccurate, but Battle's claims – in emailed comments to AFP – reflect the age-old political cudgel of pocketbook issues used to attack opponents, and which have become a popular misinformation front on social media.
Battle's was one of more than 250 emails which AFP received since February in response to fact checks that debunked misleading claims about the escalating retail cost of gasoline.
Numerous social media posts blaming the policies of Democratic President Joe Biden have continued to spread since.
One recurring meme shared almost 230,000 times carries the message: "Here's to everyone who voted for higher gas prices, higher taxes and open borders." A man in a cowboy hat is raising a cocktail in one version, while another shows the actor Leonardo DiCaprio giving a champagne toast.
A separate meme shared thousands of times says: "Man gas prices rising fast.... If only we had our own pipeline that would not only provide jobs but cheaper oil."
That post is alluding to Biden's revocation of the Keystone XL oil pipeline construction permit, which would have brought crude from Alberta to US Gulf Coast refineries.
Many Americans, such as Battle who emailed AFP, were vehement in blaming the pipeline decision for higher gasoline prices. Some complained about the president's halt of new oil and gas leases on federal land. The result, they claimed, is increased US reliance on foreign oil.
Battle did not respond to a request for further comment.
"Biden decided to stop the US from obtaining our own oil," Jason Wallace, who said he is in the transport sector, wrote in an email to AFP. "He did force the cost of gas and other crude products up. Now we are having to buy oil from other nations plus pay to have it shipped over," he said.
Wallace also did not reply when AFP emailed a request for additional comment.
Reflecting the partisanship of the 2020 election, other Americans echoed losing Republican president Donald Trump's "Beijing Biden" talking point. They alleged that the Democrat is in thrall to China.
"Fact checkers are trying to cover up for the worst president this country has ever had, gas prices are going up directly because of Biden and you're saying it's false when he has gone back to importing oil from China instead of using his own. Stop lieing (sic) to the American people," wrote Michael Hackenberg in an email to AFP.
America does not import crude oil from China. In fact, it exports significant quantities of petroleum products to the world's second largest economy. Hackenberg did not respond to an AFP email that outlined official energy data on US imports and exports.
Gas prices have risen this year. But the claims in the memes and in reader comments to AFP are misleading.
Ethan Porter, assistant professor of media and public affairs at George Washington University, told AFP his impression is that there has been an increase in misinformation about gas prices, but the trend is to be expected.
"Casting aspersions on your opponents for economic misfortunes is among the oldest tricks in the book," Porter said by phone.
"It's really, really difficult to disentangle the price from the cause of the price," so our "political brains" tell a story which, "especially in an age of intense partisan polarization, is that the other party is to blame," said Porter.
Emerson Brooking, resident senior fellow at the Atlantic Council's Digital Forensic Research Lab, agreed the issue goes beyond misinformation to politics more generally.
"For millions of Americans, the price of gas is a tangible, personal thing that directly affects how much money they have available to spend each month. This makes it a powerful line of political attack. It has been this way since long before social media was invented," he told AFP by email.
Economic analysts say, and data show, collapsed demand during the pandemic was a major cause of plunging gas prices in 2020.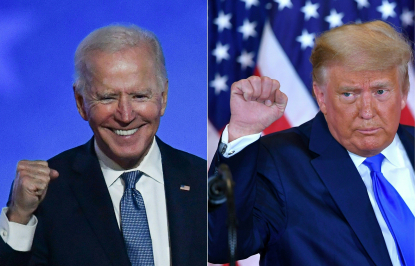 This combination of photos created on November 4, 2020 shows Democratic presidential nominee Joe Biden (left) in Wilmington, Delaware, and President Donald Trump (right) in Washington, DC, both pumping their fists on election night (AFP / Angela Weiss, Mandel Ngan)
A glut of oil in the world market had spurred low prices during the Trump administration. The average weekly retail gas price fell to $1.87 per gallon (49 cents per liter) in April 2020 before beginning to rise and reaching $2.48 a gallon in January when Biden took office.
A year after their collapse, prices had gone up more than a dollar to $2.95 a gallon by April 2021, according to the Energy Information Administration (EIA), the Department of Energy's statistical and analysis agency.
"Typically, gas prices go up in the spring anyway," when inventories are switched to gas formulated for warmer months, said Fred Rozell, president of OPIS, a firm which tracks oil prices.
The global price of crude oil, millions of barrels of which are imported every day, also rose this year. But Rozell attributes most of the gas price increase to a "jubilance" rally "in terms of a good outlook for the economy" and perceptions the pandemic is being overcome.
"Now that demand is starting to come back," he said by phone, "we're getting a little more bullish on price."
The Keystone decision "has nothing to do with it," Rozell added. Another analyst, Richard Joswick, head of Platts oil price, refining and trade flow analytics, agreed.
"Retail prices are now back up close to $3/gallon, closer to 2018 or 2019 (and still much lower than in 2011-2014)," Joswick said by email.
"This increase is being driven mostly by a recovery in the price of crude oil globally (and thus also in the US)."
Claims that the US "now" has to buy foreign oil and is reliant on Middle East supply are also false.
The United States has for decades imported and exported petroleum, but imports fell from 2005 alongside rising exports and domestic production. Most imports are from Canada.
In 2020 the US, for the first time, annually exported more petroleum than it imported, the EIA estimated, forecasting a return to net-importer status this year.
Still, after a plunge during the pandemic, the EIA sees domestic crude production rising this year and into 2022 -– another counter to the false claims of doubters like Wallace who said Biden stopped the country from accessing its own oil.
While the "misleading and wrong" information spreads on social media, Brooking sees something else in the reversion to a long-standing battle cry over gas prices. "They are also one of the clearest signs that American politics is returning to normal," he said.