This is an old video of a practical joke
Facebook posts shared thousands of times feature a video of a man trying to haul a cash machine onto a bus, with captions claiming he is a "protester" or "looter" who stole the ATM. However, the footage has nothing to do with anti-racism protests currently sweeping the US, which have seen outbreaks of looting. The man in the video is a comedian pulling a prank in March 2019.
"Protester attempts to steal an ATM then use public transportation to escape," reads the caption on a Facebook post by US talk show host Sean Hannity, shared more than 13,000 times since June 1, 2020.
The accompanying video shows a man hauling a cash machine along the street towards a parked bus. He attempts to climb on board with the bulky item, but the driver promptly shuts the doors and leaves him.
"We could have made money together!" the man shouts as the bus pulls away.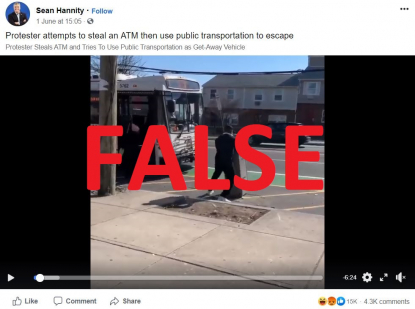 Screenshot of the false claim shared on Facebook, taken on June 9, 2020
Similar posts, which we've archived here and here, claim the footage shows a "looter".
"The United States is just too funny right now...The guy steals a cash machine and tries to take the bus with it," reads a post (in French) viewed more than 68,000 times since May 31, 2020.
A video of a white Minneapolis police officer pressing his knee on the neck of 46-year-old black man George Floyd until he died has sparked the most sweeping US protests for racial justice since the 1968 assassination of Martin Luther King Jr.
The demonstrations have prompted a wave of misinformation, including a video falsely purporting to show protesters storming the White House and posts even claiming that Floyd's death was staged.
ATM practical joke
AFP Fact Check ran a reverse image search on the footage circulating online using the Invid-WeVerify verification tool. 
We traced the video to a report from March 26, 2019, on British news site Mail Online. The article describes the incident as a "practical joke".
"A New Jersey bus almost became a getaway vehicle during a practical joke which made it seem as though a man was trying to board with a stolen ATM," it reads. 
"Comedian Darius Kinney, who has almost 3,000 followers on his 'funny skits' Twitter account, asked his friend to record him as he pretended to steal an ATM and try and board a bus with it."
AFP Fact Check traced the original video to a tweet posted by Darius Kinney on March 19, 2019.
Everybody want to be rich but don't nobody want to help you get it lol pic.twitter.com/r1dGCto3oP

— Darius DK (@Darius_DK) March 19, 2019
Contacted by AFP Fact Check, Kinney said he is the man in the video carrying the cash machine, which he says he found abandoned outside a barbershop.
"I pulled up to the barbershop and saw an ATM. Then I saw the bus stop. After, I just put it together in my head and made a prank video," he said via Twitter Direct Message.
Kinney has posted similar gags with cash machines (here and here) on Instagram.
"When I do my pranks, nobody ever knows what's going on. Just me and my cameraman. That's why they end up so real."
The comedian reposted the footage on his Facebook account on June 1 alongside the caption, "Me at the riots when the cops not looking #Reposter".
Translated and adapted by Charlotte Mason