Old video misrepresented in false posts that former Indian PM was not allowed to cut own birthday cake
A video has been viewed tens of thousands of times on Twitter and Facebook alongside a claim it shows former Indian prime minister Manmohan Singh was purportedly not allowed to cut his own birthday cake during a party. The claim is false: the video shows an unrelated event that happened in December 2018, three months after Singh celebrated his birthday.
The video was shared on Twitter with the false claim here on May 30, 2021. It has since been viewed more than 30,0000 times. 
"Can't have freedom to cut the cake on his own Birthday & yet for some people he's the Best PM of India," the tweet reads.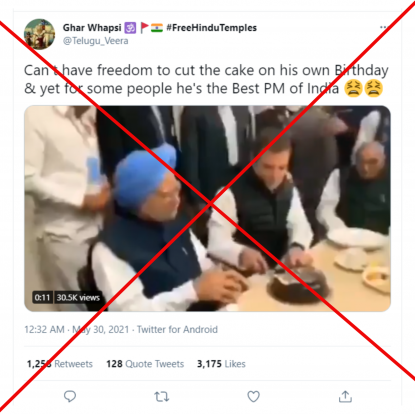 The video shows Manmohan Singh looking on as politician Rahul Gandhi of the Congress Party appears to cut a slice of cake for him.
Critics have depicted Singh as a powerless political puppet of the party when he served as prime minister from 2004 to 2014, AFP reported.
He has been the subject of misleading claims, such as this one debunked by AFP which said that he was sidelined by Congress Party President Sonia Gandhi during a photo op.
An identical video was also shared alongside a similar claim he was not allowed to cut his own birthday cake here and here on Twitter; and here on Facebook.
The video and claim previously circulated in 2019, as seen here and here. 
The claim is false: the video is unrelated to Singh's birthday.
A keyword search found the video was uploaded on the official YouTube account of the Congress Party on December 28, 2018.
The video's caption reads: "Former PM Manmohan Singh and Congress President Rahul Gandhi cut a cake on Congress Foundation Day".
Singh's birthday is on September 26, according to this profile. 
Below is a comparison of a still from the video in the misleading posts (L) and the video posted to YouTube by the official account of Congress Party (R):
The video corresponds to images embedded in this report about the Conress Party event published by local media organisation The Indian Express on December 28, 2018.
The misleading claim was also  debunked by the Indian media organisation Alt News.