Old post spreads misinformation about illegal arms shipment to Nigeria
An old Facebook post with images of uniformed men standing next to a shipment of weapons has resurfaced alongside claims that it shows illegal firearms concealed in a container carrying food supplies from France to Nigeria's troubled Borno state. But this is false: The images from 2017 show weapons seized by Nigerian customs officials from an impounded container loaded with about 440 pump-action rifles from Turkey, one of several such shipments intercepted that year.
"Ammunition from France concealed in container with food said to be meant for IDPs. in Borno (sic)," reads the caption on this Facebook post. It has gathered nearly 400 shares since it was published on January 3, 2020.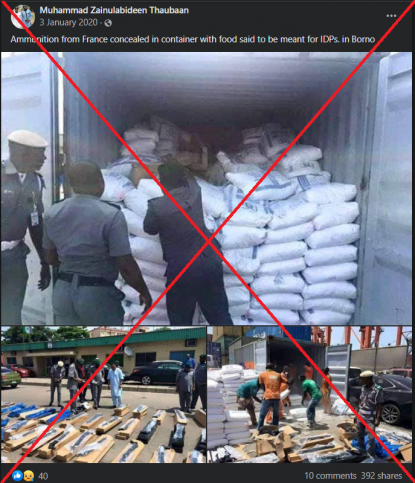 Screenshot taken on January 8, 2021, showing the false Facebook post
IDPs refers to internally displaced persons who, in this context, have fled their homes amid attacks by the jihadist group Boko Haram.
One image shows Nigerian customs officers standing in front of an open container loaded with white bags while another features a display of several pump-action rifles placed on cartons. A third photo is of men offloading the container.
The claim was shared more than 7,000 times across Facebook and Twitter, according to social media analysis tool CrowdTangle, including here and here.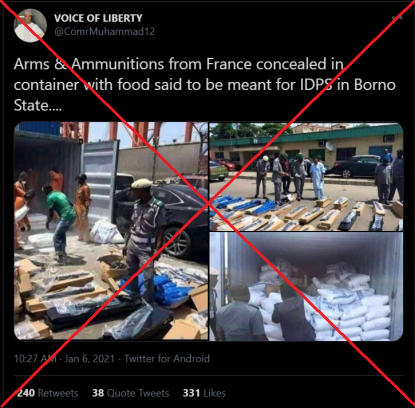 Screenshot taken on January 8, 2021, showing one of the false tweets
In reality, these are old photos showing a shipment from Turkey smuggling weapons falsely declared as plaster of Paris. The consignment was intercepted in May 2017 at the Tin Can Island port in Lagos, one of Nigeria's busiest seaports.  
The pictures were taken during a media briefing organised by Nigerian customs officials. The Nigeria Customs Service also posted further details in a statement published on its Facebook page. The story was widely reported in Nigerian media including daily newspapers The Punch and Tribune. 
AFP Fact Check previously debunked a similar post including two of these photos, which falsely claimed to show illicit French weapons destined for Boko Haram.