Old Malaysian newspaper front page about Hamas fighter shared in misleading posts
A photo of a Malaysian newspaper's front page has been shared thousands of times on Facebook, Instagram, Twitter and TikTok, alongside a claim that Israel has accused Malaysia of training a Hamas fighter in May 2021. The image was shared during an escalation of the Israeli-Palestinian conflict in May 2021. The claim is misleading. The photo shows a front page of Malaysian paper Sinar Harian from 2014, years before the current crisis.
An image of a newspaper headline was published on 15 May 2021, on Facebook here. It has been shared more than 7,000 times. 
The newspaper's Malaysian-language headline reads: "Israel targets Malaysia. A Zionist news report accuses Malaysia for training Al-Qassam but refuted by the Home Ministry and Hamas."
The post's Malaysian-language caption reads: "Keep some stock of firecrackers to prepare for the Zionist army."
Screenshot of the misleading post, taken on May 15, 2021
"Al-Qassam" refers to the Ezzedine al-Qassam Brigades, the military wing of Hamas. 
The image was shared during the escalation of Israel-Palestine conflict in May 2021. AFP reported on the developments here.
It has been shared and liked thousands of times after it was shared with a similar claim on Facebook here and here; on Twitter here; on Instagram here and here; and on TikTok here.  
The claim, however, is misleading. 
A reverse image search on Google, followed by keyword searches on Facebook, found the front page was posted on the official Facebook page of Malaysian newspaper Sinar Harian on July 31, 2014, here.
The publication date of the front page is shown as August 1, 2014. 
Below is a screenshot comparison of the image in the misleading post (L) and the genuine front page photo (R):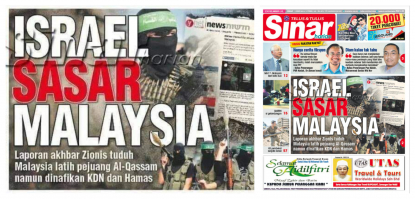 Screenshot comparison of the image in the misleading post (L) and the genuine front page photo (R)
Although the original article is not accessible on Sinar Harian's website, the actual article has been archived and can be accessed here.
It is headlined: "Israel starts to target Malaysia?"
The report quoted the Jerusalem Post, which said the Israel Security Agency claimed that a captured Hamas militant had been trained in Malaysia.
Both Hamas and then Malaysian deputy home minister Wan Junaidi separately refuted the Israeli allegation, as reported here, here and here.