Old data circulates claiming Nigeria is the most terrorised country in Africa
In early September, a popular Nigerian TV station reported that the country was the third most terrorised in the world in 2020, after Afghanistan and Iraq. The story quickly spread on social media. But the claim is misleading; the Global Terrorism Index's publisher confirmed the figures were from last year and that the latest statistics will not be released until October. The TV station told AFP Fact Check it had used the data erroneously and corrected its mistake.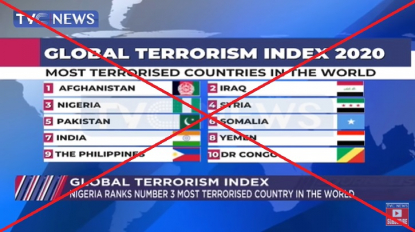 A screenshot taken September 23, 2020, showing the TVC programme
Nigerian channel TVC News first ran the story on September 10, 2020. It also shared its report on YouTube, with the caption "Nigeria Emerges Most Terrorised Country In Africa, Ranks Worse Than Syria, Yemen, Somalia".
The report has since popped up in Facebook and Twitter posts, and in various blogs and articles. The Daily Times newspaper shared a screenshot from TVC News's report on Facebook on September 13, 2020, with the caption "Nigeria now above Syria, Somalia, Yemen in terrorism index as the country climbs to third position".
Chidi Odinkalu, a professor and former chairman of the country's National Human Rights Commission, also shared the screenshot with his 76,000 followers on Twitter. 
Meanwhile, one Facebook page posted a doctored image of the screenshot with President Muhamadu Buhari, claiming he was "celebrating" the report.
A screenshot of the doctored image with Nigeria's president (R) taken on September 23, 2020
In reality, the picture showed Buhari unveiling the logo for Nigeria's 60th independence anniversary celebration on 16 September, 2020.
There is no 2020 terrorism index yet
The Institute for Economics and Peace, which publishes the Global Terrorism Index, confirmed has not yet released this year's ranking. The last report dates back to  November 2019, and can be found here. 
The institute said on Twitter that the viral screenshot in fact shows data from 2019, when Nigeria genuinely ranked third in the Global Terrorism Index. 
According to the index, Africa's most populous nation saw 562 attacks that killed more than 2,000 people in 2018. It blamed the increase on a spike in deadly clashes over land.
CLARIFICATION: This is data from the 2019 Global Terrorism Index.

The 2020 Global Terrorism Index has NOT yet been released and is due for launch in November 2020.

— Global Peace Index (@GlobPeaceIndex) September 16, 2020
Contacted AFP Fact Check, a spokesman from TVC News said the channel made a mistake.
"It was an error and it's been corrected to reflect the correct date," programme producer Festus Alabi said. 
The actual picture doctored to claim Buhari was celebrating terrorism
The Global Terrorism Index "provides a comprehensive summary of the key global trends and patterns in terrorism over the last 50 years."