Old AFP photo shows Russian priest, not Israeli clergyman, blessing firearms for new recruits
An image of a priest standing next to a table of firearms has been widely shared on social media with claims that it shows an Israeli clergyman blessing weapons amid the latest Israeli-Palestinian crisis. But this is false: the image from 2008 was taken by an AFP photographer in Russia.
The photo, which appears in numerous social media posts including on Facebook, started circulating following the latest round of violence that erupted between Israeli forces and Palestinians in May 2021.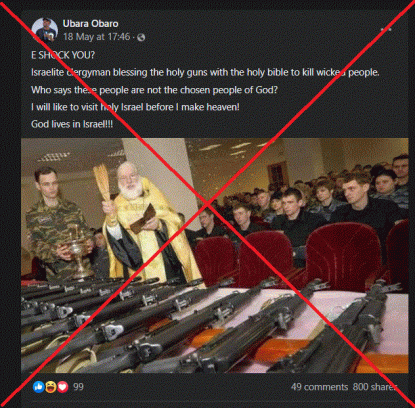 Screenshot of the false Facebook post, taken on May 24, 2021
"Israelite clergyman blessing the holy guns with the holy bible to kill wicked people (sic)," reads the Facebook post, shared more than 800 times since it was published on May 18, 2021. "Who says these people are not the chosen people of God? I will like to visit holy Israel before I make heaven! God lives in Israel!!! (sic)"
The clergyman, wearing a gold cassock, appears to perform a religious rite next to a table full of weapons.
The image has also been shared in other posts alongside the same claim circulated by supporters of Nigeria's outlawed separatist movement Indigenous People of Biafra (IPOB), whose leader Nnamdi Kanu believes the Igbo people in the country's southeast are a lost tribe of Israel.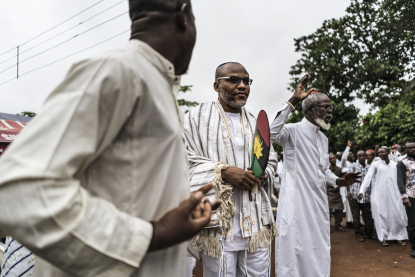 IPOB supporters with their leader Nnamdi Kanu seen celebrating Shabbat in Umuahia (Photo: Marco LONGARI / AFP)
However, the photo has nothing to do with the deadly Israeli-Palestinian conflict and was taken years ago in Russia.
Russian Orthodox priest 
A reverse image search revealed that the original picture can be found in AFP's online archives. AFP photographer Danil Semyonov took the photo on January 29, 2008, at a weapons' presentation event for new police recruits in southwestern Russia.
Screenshot of the image in AFP's online archives
"A Russian Orthodox priest blesses new Kalashnikov machine guns during a ceremony presenting the new weapons to recently enlisted members of Russia's elite 'OMON' riot police corps in Stavropol," the caption reads.
The word "OMON" is seen on the badge of the uniformed man standing next to the priest. OMON is an acronym for a special police unit of Russia's national guard in charge of riots or protests.
AFP has extensively covered the violence which erupted on May 10, 2021, between Israel and Islamist group Hamas in the Gaza Strip. 
A ceasefire has been brokered between Israel and the Palestinian Hamas movement in Gaza (Photo: Mahmud HAMS / AFP)
A ceasefire came into effect on May 21, 2021, as AFP reported.