No, this video doesn't show a real Cape Town shootout — the scene was staged
A brief video shared thousands of times on Facebook purports to show a dramatic shootout between gang members in Cape Town. Footage of the same scene, shot from a different angle, has previously circulated in other online posts that falsely claim it shows xenophobic violence in South Africa. AFP used a longer version of the same scene to show that the participants in the "shootout" are actors. 
A Facebook post, which we've archived here, shows less than 15 seconds of the dramatic shootout in a video captioned: "You may think it's a movie but it's not capetown is the most dangerous place I know and gangs here are ruling".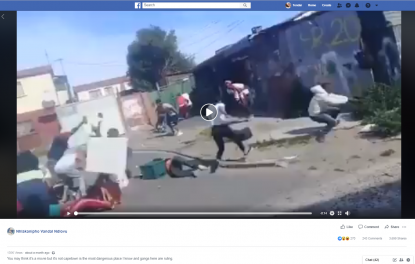 A screenshot taken on July 18, 2019 of the misleading Facebook post
As reported by AFP, South African soldiers started patrolling Cape Town's crime-ridden townships last week, under a deployment ordered by the government to counter a surge of shootings, gang violence and murders.
According to Police Minister Bheki Cele, murders in the Western Cape province, which includes Cape Town, increased by 6.3 percent from 3,729 to 3,963 during the year to April 2019.
At least 900 people were killed in gang-related violence in townships of the Cape Flats between January and June 2019, according the Western Cape government -- see local reports here and here.
But despite the situation in the Western Cape, the dramatic shootout does not show real events -- the scene was staged.
Footage of the same scene, shot from a different angle, had been widely shared earlier this year in posts claiming that it showed a shootout between South Africans and foreigners -- read the AFP Fact Check here.
In the longer version of the scene AFP found on Facebook, you can clearly see camera operators walking around before the shooting starts, and a crowd gathered to watch the scene. After the shooting, the crowd cheer and applaud.
Last time we fact-checked the video, a tip-off from an AFP source in Cape Town suggested the video was filmed during the shooting of a movie in the city's Parkwood suburb.
We're still trying to contact the people who we were told were behind it. We'll update this post when they get back to us.