No, these images do not show protests against Indonesia's president in Jakarta on September 14
Photos have been widely shared on Facebook claiming to show protests against Indonesian President Joko Widodo in Jakarta on September 14, 2018. Reverse image searches show the pictures are actually of demonstrations that took place in 2016 and 2017. Police said no such rally had taken place in the capital on that day.
The photographs were shared on Facebook on September 14, 2018, with a caption in Bahasa Indonesia saying:  "Even though there was no coverage by media, someone was able to capture the event with a cell phone: a plethora of people protest in Jakarta today, while the country's ruler is still hiding."
"Hopefully your movement could result in #2019GantiPresiden."
The hashtag refers to a social media campaign that opposes Widodo's bid for re-election in April, 2019.
The post was shared hundreds of times and the images were also used in multiple other Facebook posts like this one which also claimed they showed anti-Widodo rallies in Jakarta on September 14.
The first photo shows what appears to be a crowd of students carrying banners and flags demanding Widodo act on unfulfilled campaign promises.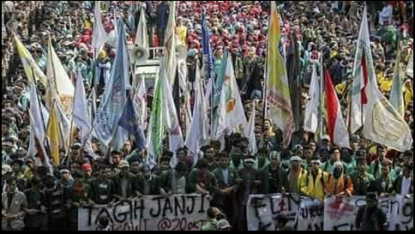 Screenshot of misleading image
In the second image a large crowd can be seen sitting in a square at the base of a building. The image carries the logo of student newspaper Bulaksumur, from Gadjah Mada University in Yogyakarta.
Reverse image searches using Google found that neither photograph was from a September 14 rally in Jakarta.
The first photo is from an article on news website Suara.com published on October 20, 2017, and shows students and workers demonstrating in Jakarta against Widodo's first three years in office.
The second image is of a student rally at Gadjah Mada University in the Javanese city of Yogyakarta and was published student newspaper Bulaksumur's Instagram page on May 2, 2016.
Jakarta Police spokesman Argo Yuwono told AFP that no anti-Widodo rally had taken place in Jakarta on September 14.