No, these are not victims of the quake-tsunami on Indonesia's Sulawesi Island
A widely-shared Facebook post claims to show the bodies of people killed in the devastating earthquake and tsunami that hit Indonesia's Sulawesi Island last week. The image was in fact taken in Thailand after the 2004 Asian tsunami and is from the Rex Features photo agency.
Posted on Facebook on September 30, the image has a caption in Indonesian that reads: "These are Palu earthquake victims. Please pray for a second. Hopefully the victims will rest in peace in heaven. Those who share this post will be spared from calamities!!! Amen."
Palu is one of the Sulawesi cities hit by a series of earthquakes, the strongest measuring 7.5 magnitude, on September 28, 2018.
The official toll from the disaster, which was followed by a tsunami, was more than 1,400 confirmed dead on October 4.
The post, which had more than 80,000 shares and 15,000 reactions, showed body bags being lined up by aid workers dressed in green. Many of the comments underneath said "Amen."
AFP examined where the image first appeared on the internet and found it illustrating a New Scientist article from January 4, 2005, titled "500,000 people injured by Asian tsunami".  
The picture has a Rex Features credit and caption saying "Near Khao Lak, about 100 kilometres north of Phuket, Thailand, volunteers sort bodies and place them into bags before taking them to the morgue, where a DNA sample is taken."
The photo appeared on Rex Features' website in a search for "Khao Lak".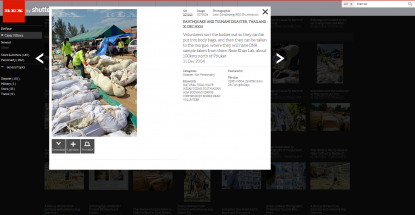 Snapshot of the search results in Rex Features' website.
Indonesia has cracked down on "fake news" about its deadly quake-tsunami disaster, with police arresting nine people for spreading hoaxes in a bid to prevent further panic spreading among survivors.