Canadian foreign aid: beware the false figures
Posts purporting to detail Canada's foreign aid spending are circulating widely on social media. The posts detail unfounded spending on foreign aid to individual countries, incorrectly state that the Trudeau government gave money to Hamas and falsely claim that Canada gave $600 million to the Clinton Foundation.
"Trudeau hands out billions while Canadians stand in line at food banks," begins a meme which has been shared thousands of times with different photos of the Canadian prime minister on Facebook, Twitter and most recently on Instagram. The posts inflate foreign aid spending to mainly Muslim-majority and African countries and to the Clinton Foundation, a non-profit organization established by the former US President Bill Clinton. The memes also wrongly state that Canada gives aid to Hamas, the Islamist movement that runs the blockaded Gaza Strip.
Screenshot of false Facebook post taken on October 4, 2018
What do we know?
In its 2016-2017 report, Canada's governmental aid agency Global Affairs Canada reported $5.6 billion in total international assistance. The report defines international assistance as "all financial resources provided by Canadian governments (federal, provincial or municipal) toward development assistance".
The report details bilateral assistance and multilateral assistance to individual countries. Bilateral assistance includes humanitarian assistance like emergency food aid. Multilateral assistance is defined as funding provided to "an international agency, institution, or organization whose members are governments, or a fund managed autonomously by such an agency".
Examining the numbers for countries given in the meme, it is clear that the figures are inaccurate. For each country listed, the actual aid figures are significantly lower than those given in the meme.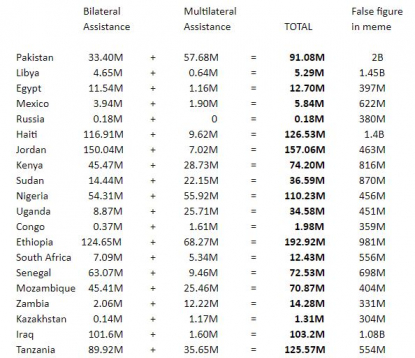 Chart showing Canadian foreign aid calculations by AFP Canada
Aid to Clinton Foundation
The posts all include a reference to $600 million in direct cash aid to the Clinton Foundation. That can't be true as $600 million is two-and-a-half times more than the total revenue and support given to the foundation in 2016. According to the Clinton Foundation's latest available financial statement, they took in a total revenue and support of $224,827,893 in the year that ended December 31, 2016.
Confusion over Canada's donations to the Clinton Foundation and its initiatives have persisted since the government designated $20 million for the Clinton Health Access Initiative (CHAI) in Nigeria in 2017. CHAI is actually a separate nonprofit organization from the Clinton Foundation and has been since 2010.
After the donation was announced, The Toronto Sun newspaper published an editorial headlined "Canada shouldn't donate to the Clinton Foundation." The editorial included an erroneous claim that the government was planning to give $241.5 million to the Clinton Foundation. This error led to several blogs and websites reporting the figure inaccurately.
The Sun article is still online but now includes this correction, "A previous version of this story incorrectly noted the sum handed over to the Clinton Health Access Initiative. The total is $20 million, which is a portion of a broader $241.5 million announcement of numerous contributions."
Aid to the Palestinian people
In fiscal year 2016-2017 Canada gave $38.76 million in bilateral assistance and $12.13 in multilateral assistance to the West Bank and Gaza. Amy Mills, a Canadian Global Affairs spokesperson, told AFP in an email, "Global Affairs Canada uses experienced Canadian and international partners to implement its projects. No Canadian assistance goes directly to the Palestinian Authority. As Hamas is a listed terrorist organization in Canada, we have no contact with this organization."
What can be concluded?
Global Affairs Canada reported a total international assistance budget of $5.6 billion for fiscal year 2016-2017. The top aid recipients included Afghanistan, Ethiopia and Jordan.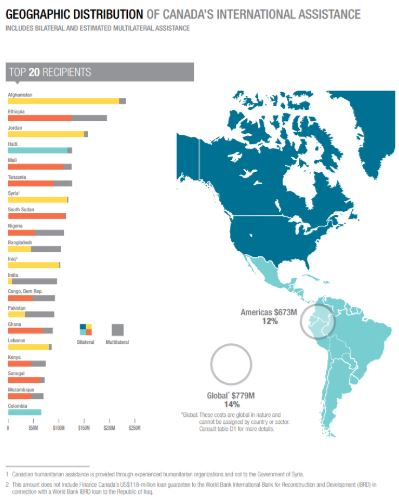 Geographic distribution of Canada's international assistance (Global Affairs Canada)
The Canadian government also gave funding to the Clinton Health Access Initiative in Nigeria in 2017, but contributed $20 million, not $600 million.