No studies link watching 'Peppa Pig' to developing autism
Despite several debunks, rumors that British cartoon "Peppa Pig" prompts autism among children who watch it continue to spread. According to a UK-based website, a Harvard University research team came to those findings, but no study about this specific TV show was ever conducted.
Parents, be warned. "A group of experts at Harvard University did a study revealing that Peppa Pig is one of the main causes of autism among children," according to a widely and persistently shared article originally published in June 2016.
The false Newsely article claims children who watch "Peppa Pig" are more likely to engage in "adversarial, snide, questioning, confrontation, and disrespectful behavior." The reason for this, according to the fake study: the insubordinate attitude of the little girl pig and her brother George in the many episodes of the show, which supposedly influences children's psychological development.
Earlier articles in the same vein wrote that the Harvard Study in question was conducted by researcher Marc Wildemberg. A quick search through Harvard University's department directories shows that no Marc Wildemberg worked at the Ivy League institution.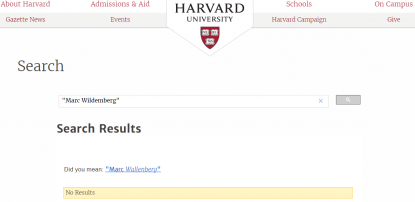 Screenshot of a search result for Marc Wildemberg
As for a potential study linking "Peppa Pig" to autism, JSTOR, a leading search engine for peer-reviewed scholarly articles, can only find one study mentioning "Peppa Pig", which had no connection to autism, out of 2,400 academic journals worldwide.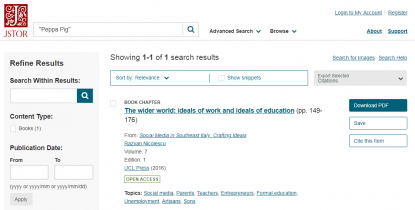 Screenshot of a search result for Pippa Pig on JSTOR
A similar Google Scholar search result shows no trace of studies linking autism and Peppa Pig.
The article, akin to other misleading media content that draw from prestigious research institutions to legitimize their claims, does not cite the name of the study. This is often the case when a cited study does not actually exist.