No, Rwanda's Paul Kagame did not tell journalists that South Africa should be removed from the African Union
Numerous social media posts and online articles have quoted Rwanda's President Paul Kagame as suggesting to media that South Africa should be removed from the African Union (AU) in light of recent xenophobic violence. According to the posts and articles, which have been shared hundreds of times, Kagame accuses South African authorities of being complicit in the attacks. The claims are false: Kagame didn't have a press briefing on the date mentioned in the posts, and his advisor Yolande Makolo has described the reports as "complete fabrications".
One of the Facebook posts, which we've archived here, shows a picture of Kagame along with a caption that begins: "South Africa must be expelled from African Union, Paul Kagame suggested."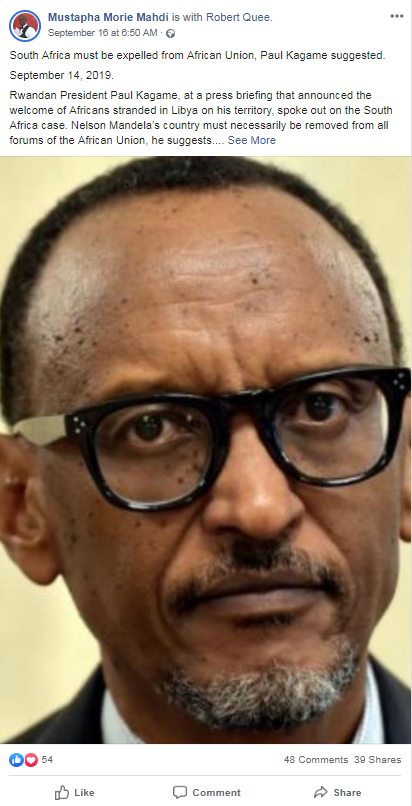 A screenshot taken on September 18, 2019 of the misleading Facebook post.
The post, which appears to have been copied from an article dated September 14, says Kagame's remarks were made at a press briefing announcing "the welcome of Africans stranded in Libya on his territory".
But as reported by AFP, that announcement took place on September 10, when Rwanda agreed to take in hundreds and potentially thousands of African migrants stranded in Libya, a deal the AU hopes to replicates with other member-states.
"We will be receiving the initial number of 500 in a few weeks," Hope Tumukunde Gasatura, Rwanda's ambassador to the AU, told a news conference after signing a memorandum of understanding alongside representatives of the AU and the UN refugee agency UNHCR. 
AFP's reporter Robbie Corey-Boulet was present at the news conference in Addis Ababa, Ethiopia, where the AU has its headquarters. 
"Kagame was not at the press conference," he told us. What's more, "No one so much as mentioned South Africa, let alone suggested it be expelled."
A search for text matching the first line of the Facebook post finds numerous posts shared with a similar narrative, including here, here and here.
A screenshot taken on September 19, 2019 of another misleading Facebook post.
A basic internet search of the headline finds an article posted by the website Benin Web TV. The link no longer opens to a story about the AU expulsion, but instead redirects to an article about South African President Cyril Ramaphosa dispatching emissaries to African countries whose citizens were affected by the anti-immigrant violence at the start of the month.
A screenshot taken on September 19, 2019 of the internet search finding Benin Web TV.
Although the article has been taken down, screenshots of the post and other articles continue to gain traction online.
We also found a debunk of the false claims by All Africa, which highlights a response to the Kagame allegations by the president's advisor Yolande Makolo. In a tweet, she described the story on Benin Web TV and an earlier version in French as "complete fabrications.''
The tweet was echoed by Athi Geleba, head of digital communications for the South African presidency.
Despite Makolo's request for the "fake news" to be removed, the French-language article she mentioned, on the Ivorian website Abidjan TV, remains online. It falsely quotes Kagame as accusing the South African government of encouraging the attacks on foreigners. Moreover, the website has also published a second article which directly repeats the false claim about the African Union.
A screenshot taken on September 20, 2019 of the misleading French-language article.
Several more articles online still carry similar claims about Kagame here, here and here. 
However, all other media reports about Kagame on September 14 are limited to coverage of his remarks delivered at the 2019 RPF (Rwandan Patriotic Front) Political Bureau Meeting as party chairman.
As reported by AFP, a South African envoy expressed the country's "sincerest apologies" to Nigeria early this week, after the wave of anti-migrant attacks that has swept through Johannesburg and surrounding cities in recent weeks, fuelling diplomatic tensions.
At least 12 people were killed in the violence that left hundreds of shops destroyed.
Kagame led an active and reformist tenure as AU chair, and passed the baton over to Egyptian President Abdel Fattah al-Sisi in February.