No, this photo does not show Indonesia's president at a communist party event
A photo shared on social media appears to show Indonesian President Joko Widodo at an event for the nation's banned communist party. The photo is manipulated from an original taken of the president at a 2014 event hosted by his political party in which there was no communist imagery.
The altered photo, posted on this Facebook page, shows Widodo wearing a red jacket and standing with a small crowd also wearing red around a festive, cone-shaped rice dish known as tumpeng.
Two table decorations bearing the hammer-and-sickle can be seen in the picture, copied below.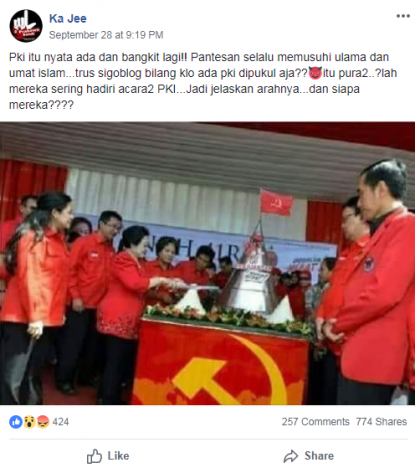 Snapshot of the false post.
The text above the post's image translates as: "The PKI is alive and rising again!! No wonder clerics and Muslims are hated...These dumb people don't mean it when they say others can crack down on suspected PKI activities...because they themselves frequently attend PKI events. So, it's clear who these people are and what their purpose is, right?"
PKI refers to the Indonesian communist party., which was banned in 1966. Here is an Indonesian language copy of the government decree banning the party. 
Some of Jokowi's opponents have sought to discredit him by accusing him of being a communist sympathiser -- a claim he has repeatedly rejected.
The Facebook post -- which has been shared more than 700 times -- appeared in a group that supports Prabowo Subianto, Jokowi's rival in 2019 presidential elections.
The manipulated photo has also appeared on other social media platforms.
The misleading image is a doctored version of a photo published by Indonesian news agency Antara taken on the 41st anniversary of the Indonesian Democratic Party of Struggle, which Widodo is a member of. The hammer-and-sickle decorations are absent in the original photo, which can be seen in this link from Antara.