No, these police officers were not assaulted by members of the migrant caravan
Three images depict injured Mexican policemen: one of them is on the ground and struggling to remain upright, another one's nose is bleeding, while the third's face is almost entirely covered in blood. The images are real, but they were widely shared on social media out of context, with the suggestion that the injured cops were recently attacked by "illegal migrants". The photos were actually taken in three different places, several years apart.
"MEXICO: Police are being attacked and brutalized by the migrant caravan as illegal migrants attempt to force their way into Mexico," according to a Facebook post widely shared in Canada.
Screenshot taken on October 26, 2018 of a Facebook post shared in Canada
Other posts feature the same photo and two more, depicting Mexican policemen in different locations at different times. None of the photos were taken when the caravan of Central American migrants began its journey through Mexico a few weeks ago, or even in 2018.
Screenshot taken on October 26, 2018 of a Facebook post
The injured policeman on the ground
This image was taken in December 2014 in Chilpancingo, a town in the Mexican state of Guerrero. Cristopher Rogel Blanquet, the photographer, told AFP that the photo was taken a few months after 43 students from Ayotzinapa, in the same state, were reported missing.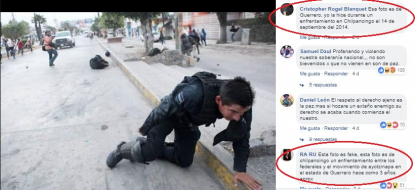 Screenshot taken on October 25, 2018 of a Facebook post to which Cristopher Rogel Blanquet responded
In one Spanish-language Facebook post that took his photo out of context, Blanquet (whose comment is circled in red) said: "This photo is from Guerrero, I took it during clashes in Chilpancingo on September 14, 2014." Also circled in red, another internet user pointed out the real context for the photo.
"That day, there was going to be a concert by Panteon Rococo, but in the early morning there were clashes between students and the federal police, which lasted until 10 in the morning, more or less," Blanquet recalled.
Cristopher Blanquet's photo was published in the online gallery of Mexican newspaper El Universal, where he worked in 2014. The photojournalist also shared the image on his Facebook page.
Screenshot taken on October 25, 2018 of Cristopher Rogel Blanquet's Facebook post
The policeman with a bloody nose
A Google reverse image search of this photo leads to a February 2011 article, pictured below. According to the article, the policeman was injured in clashes "after a group 200-strong attempted to force its way into the city's center square in order to protest against then-president of Mexico Felipe Calderon's visit in Oaxaca." Various other media reported on the same incident.
Screenshot taken on October 25, 2018 of the website that published the original photo
The policeman with a head injury
Also using Google reverse image search, this photo is found on an October 2012 post on the news website Aristegui Noticias. According to the report, the photo of the injured policeman is credited to Mexican journalist Gustavo Aguado. On October 24, he confirmed the origin of his photo himself after it was shared out of context.
Screenshot taken on October 30, 2018 of Gustavo Aguado's Facebook post
Although the images of injured Mexican police officers are real, none of these photos depicts scenes from the migrant caravan that is crossing Mexico towards the United States in the past days. According to the UN, the caravan is estimated to include 7,000 Central Americans.